Despite last week's arrest of one of the Camp Street prison escapees, security will continue to be heightened in Berbice, according to Commander of 'B' Division Paul Williams.
Williams, during a press conference in his office at the Central Police Station, in New Amsterdam on Monday morning, stated that he wished to inform the public that the Joint Services' activities would not be "relaxed" following the arrest of fugitive Stafrei Alexander.
"We going to still maintain our posture with a high level of security alertness," he said, while announcing Operation Focus.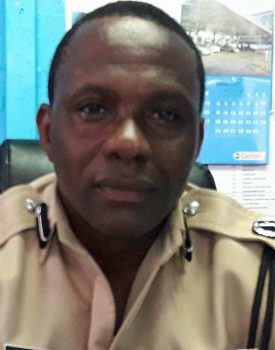 Williams explained that Operation Focus would target all aspects of crime, including traffic lawlessness, in the district. "We have robberies and other things likely to happen. That simply means that we need to be on top of the situation because we don't want certain things to keep happening," he added.
According to Williams, the police will continue Operation Focus so as to ensure the safety of citizens at all times. He also once more called on Berbicians to be patient and cooperate with the police. "I already spoke to my ranks: We are not going to target people or make people uncomfortable unnecessarily; anywhere we go and whatever we do, we are doing with intelligence-led information and they need to understand that,"  he explained.
Williams highlighted that it is important for citizens to cooperate with the police because while most of them may be "law-abiding," there may also be rogue elements among them who are waiting to create problems.
He said that there will be more roadblocks, raids and even patrols throughout the district. "We will be coming into villages, raid some houses, we will be conducting searches, it is not about Alexander alone, we are looking at rogue elements and persons who in Berbice [are] inclined to commit crimes or make this place uncomfortable," he added.
Meanwhile, Williams stated that Alexander, who was recaptured on Saturday around 8 pm, so as not to implicate anyone else, had told police that he came to Berbice by himself and survived by eating sugar cane. Alexander had just emerged from his hideout in the backlands and was heading to a house in the area when police cornered him in an unfenced yard. Stabroek News was told that the house Alexander was heading towards had been previously occupied by one of the accused remanded for the murder charge of Corentyne phone card dealer Danian Jagdeo.
Williams stressed that any criminal who may feel that Berbice is a somewhat perfect hideout will be sought after until they are captured.
Touching on the Joint Services presence around the New Amsterdam Prison, Williams added that the continuous heightened security is necessary in order to prevent events similar to the fire and breakout at the Camp Street Prison last month.
He stated that Berbicians should have some peace of mind knowing that police have learned from the Camp Street Prison incident and are working daily to thwart any recurrence. "Now we have to ensure that we strengthen our security measures and do all that is required," he noted.
Williams emphasised his belief that in order to keep the district safe, citizens must play a role and work hand-in-hand with the police.
Around the Web