With Phase One of the work on the Kitty sinkhole set to be completed soon, Phase Two has begun and is expected to be finished by the end of this month.
Stabroek News was told by one of the contractors on site on Monday that the first phase, which encompasses the remedial works for the sinkhole that had developed over time near to the Kitty Pump Station and its surrounding environs, was almost completed. The contractor explained that right now they are compacting the materials around the area where they replaced several large galvanized pipes and are preparing the area to be covered with asphalt, as it was before the sinkhole developed.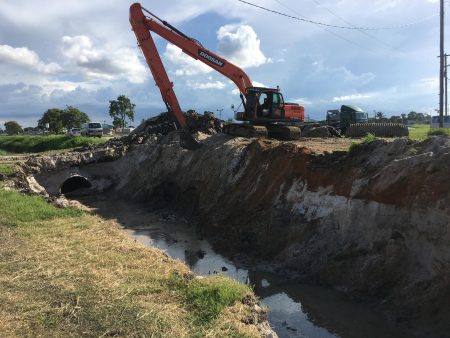 The engineer explained that the work had slowed because of the inclement weather. "Because we were compacting the material and sand and what's not, we couldn't go on with it with the weather like that. We had to wait until we got reasonable sun to dry out and take out the moisture so we could continue compacting it," he said.
However, while the first phase is not fully completed, the second phase has begun. Stabroek News visited the site on Monday where an excavator had already removed several long, large galvanized tubes from the trench running parallel on the left of Vlissingen Road.
The old pipes will be replaced with new ones and will then be housed in concrete.
Permanent Secretary of the Minis-try of Public Infrastructure Geoffrey Vaughn had earlier explained that the $142 million contract was awarded to Colin Talbot Construction Services and was expected to have started since the beginning of March.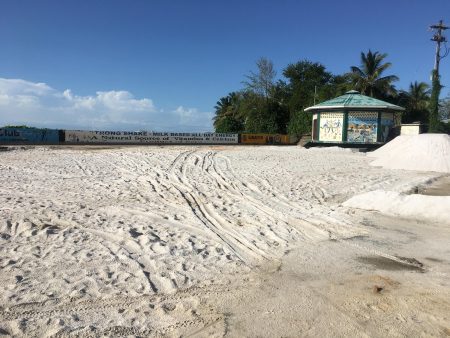 "We need to replace several pipes that are under the road around the area and a provisional sum is in the bill in case of added works when the whole surface has been opened up," Vaughn had said.
A small sinkhole had initially developed late in December last year and the Ministry of Public Infrastructure had collaborated with the Mayor and City Council in enlarging it in order to apply a temporary fix on the problem. One of the engineers on site had explained to Stabroek News that the depression in the road, which resulted in the formation of the sinkhole, was due to a galvanized pipe bursting and letting water under the road.
Because of the excess water interacting with the earth, the road caved in, causing a traffic hazard. The city had applied a temporary fix to the pipe in order to stop it from letting water into the road. However, a week later, a few more depressions appeared in the road, several feet away from the sinkhole, suggesting that the temporary fix was not addressing the main issue.
Around the Web