Twelve cooks vied for cash prizes and food hampers during an Emancipation Day cook- up competition in the National Park yesterday.
ANSA McAL along with the African Cultural and Development Association (ACDA) hosted the 'Chief Cook-Up Competition at the National Park tarmac, where contestants competed in the 'No meat or Ital,' 'No Pork" and 'Obstacle' categories and the winner in each received $50,000 and a huge food hamper.
Tammi Ramsay, chief brand representative for Chief cooking products, told Stabroek News that ANSA McAL, which is the distributor of Chief and Lasco cooking products, provided the contestants with the rice, beans, seasoning and the coconut milk powder to aid in the cooking. She said that the cooks were allowed to bring in other ingredients, like vegetables and meat.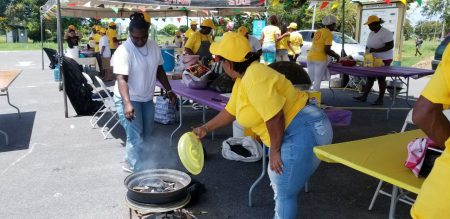 According to Ramsay, the 12 contestants had to cook with the Lasco coconut milk powder and a few of the chief cooking products which were made available as a part of the rules. The cooking started at 12 pm and ended sometime after 3 pm, with judges doing a taste test and then declaring winners.
Ramsay noted that this was the first time that Chief and Lasco brands were used in the cooking competition.
When Stabroek News visited their cooking stations, all the contestants appeared to be cool and calm. Some of the cooks used two burner gas stoves, while others used the kerosene stove and a coal pot.
Some of the contestants told Stabroek News that while they were cooking for the fun, they were also cooking for the money, which would go towards a worthy cause. One group, the Youth Challenge Guyana Group, which was competing in the 'No Pork' category, said that if it won the money would go towards working with the youth in different communities and its women entrepreneurs group. When asked what was the group's special ingredient, a representative boldly said, "Love."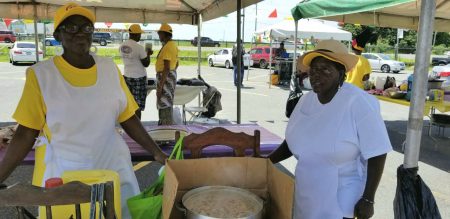 The competition also saw a retired Home Economics teacher, Desiree Pestano, competing to be the best cook up in the 'Obstacle' category. In that category, cooks were allowed to use any meat, added peas or vegetables in the pot. Pestano, who was cooking on behalf of the ACDA group, said she had been cooking all of her life. She made red beans cook-up with pig tail, salted beef, chicken pieces and smoked fish.
At the end of the competition, those emerging as winners were Waveny Dorris in the 'No Meat or Ital' category, Pinky Kerr in the 'No Pork' category and Pestano in the 'Obstacle' category.
The cooks were judged by Managing Director of ANSA McAL Troy Cadogan, cultural critic Allan Fenty and an ACDA representative.
Around the Web