The children living at the Guyana Red Cross Society Children Convalescent Home received a visit from the Caribbean Award Sub-Regional Council (CASC) participants yesterday, the Department of Public Information (DPI) said yesterday.
Assistant Field Officer of President's Youth Award, Republic of Guyana (PYARG) Shanette Dey told Department of Public Information (DPI) that the visit allowed the CASC participants to give back to the community since they will be exploring local sites before departing the country.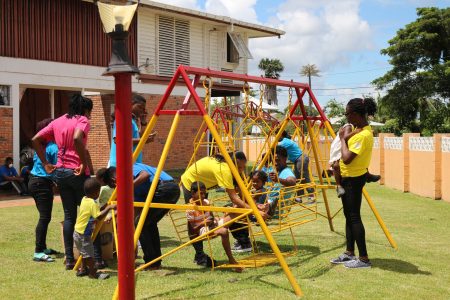 Dey explained, "They (participants)are happy I do not think they knew what they were coming to do because usually community service is physical work so when they came and saw that they were going to mix and mingle with the kids they were happy."
DPI said that this is Guyana's third time hosting CASC with representatives from The Bahamas, Barbados, Bermuda, Cayman Islands, St Lucia, Grenada, and Trinidad and Tobago under the 2017 theme, "Legend of the Eleven Giants."
Sanje Christie, representative of Nassau, Bahamas said that though he enjoyed exploring the country's forest and discovering the wildlife, he felt that it was insufficient time to view everything.
Kimberly Carlos, representative of the Cayman Islands shared that she was able to conquer her fears, once she saw how beautiful the country's forest is, especially the animals and particularly when crossing a river where teamwork was instrumental.
Around the Web