With an input of $4 billion into Guyana's economy last year, the Demerara Tobacco Company (Demtoco) is of the opinion that if the Tobacco Control Bill 2017 is signed into law in its current form without being reviewed by a select committee of Parliament, the country stands to lose billions in revenue from the tobacco industry.
"The bill in its current form will have an impact on revenue collection. Last year alone we paid $4 billion in taxes….if for whatever reason the bill goes through as is and somewhere you start to lose that revenue you have received as a Government what happens?," Managing Director, Maurlain Kirton questioned at a press conference yesterday.
Last week, the Government using its majority passed the landmark Tobacco Control Bill 2017 which will target smoking in indoor public places and ban advertising of tobacco products.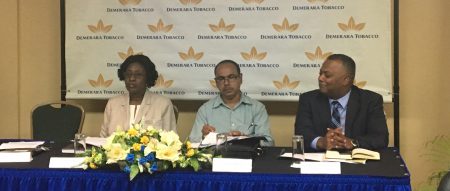 Additionally, once enacted, it would also prohibit vendors from going into any public place carrying any tobacco product, electronic delivery system, or component, in a tray, container or otherwise to make sales or to commercially display the product.
Yesterday, director of the British American Tobacco (BAT) company Raoul Glynn also alluded to the impact the bill if assented to would have on the collection of revenue from the sale of tobacco products based on the trends in other countries. "Suriname, 70% of their revenue was lost; Panama, 75% lost. Consumption was not changed. It was the same level but now they are consuming a product that evades the tax net. The Government gets no part of that tax net and what it forces the Government to do is look at other ways to get revenue to try to make up," he said.
Extremely premature
As regards the company's plans to challenge the impending legislation, he stated that it is far too early to say whether this is an option.  "At this stage, it would be extremely premature for me. I would consider it wrong to make any pronouncements about a legal action. "The company however reiterated that it is not too late for the bill which they consider to be "highly draconian and discriminatory" in nature to be sent to a select committee.
If the bill is assented to by President David Granger, the company argues that roughly 10 to 15% of its 3,800 retailers in the country would be affected. "There are no alternatives you are not even giving them an opportunity to be heard. You are just saying you have lost your livelihood. We hope that the President will review it and give it a second thought," Glynn stated.
Demtoco also said that they would have expressed their concerns on the bill to both the ruling party and the opposition hence they were taken aback when the bill was passed without it being sent to a select committee. "We have written to each Member of Parliament formally expressing our areas of concern and we have sought to have meetings. We have been able to meet with some government ministers we have met with members of the opposition so we have been raising our issues. The expectation is the fact we have been having those engagements we felt that the bill should have gone to a select committee so we are a little surprised when we heard the bill was passed," Kirton said.
And while she said her company is not opposed to the regulations, these she stated need to be both balanced and enforceable. "There are areas we are very unhappy as it relates to discrimination of employment, the issue of definition of your home as a workplace, the issue of association … the issue of what we consider to be trade secrets. One part of the legislation requires us to report how many persons we sell tobacco to, how much we are selling to them with what frequency", she asserted.
'We have recognized we are selling an adult product, we have recognized there is a right to be regulated. What we are challenging is how that regulation is designed and enforced because what you are doing is criminalizing a smoker because on one hand you are saying persons can sell and on the other hand you have put certain restrictions in place that are so harsh that makes it virtually impossible for retail trade to take place or consumption to take place," the managing director noted.
Kirton also stressed that while the company is cognizant of the obligations placed on the country as it regards the Framework Convention on Tobacco Control (FCTC), this is merely a list of recommendation and not necessarily binding law. "Guyana has signed on to the FCTC and we must remember it is not law. It is a list or a group of recommendations and the country can extract from those recommendations things they think that are applicable within their local areas of responsibility."
Enforcing
Additionally, one particular area the company is of the view the Government may have some difficulty enforcing is the notion of what constitutes a "public place." In this regard, Kirton questioned whether there would be enough "manpower" to ensure that the relevant parties are abiding by the law. "In terms of the market place do we have the resources to get into all the nooks and crannies of Guyana to ensure that all the things that are written in the bill are enforceable? Do we have that manpower to ensure that every retailer and consumer are abiding by what is written in the law? From an industry point of view we know it is not possible. We are currently faced with an issue of illicit trade and we have been engaging the Government and they say they are trying. Illicit trade has been in existence for a while. It is now 15% of total tobacco consumption in Guyana. That we anticipate will get worse," she stressed.
Kirton said that definition of workplace in the bill infringes upon the  privacy of all Guyanese. "Imagine, if you hire any sort of help, be it a gardener, babysitter, or housekeeper even your home may now be considered a workplace based on the prevailing definition. This definition is too wide, and now raises questions of enforceability…We are of the view that the words, and I quote "place of collective use, regardless of ownership or right to access" should be removed  from the  said definition", she asserted.
"We also believe that public places, such as, private entities and workplaces should be allowed by law, to set up adequately designated smoking areas. For example, factories, restaurants, bars, casinos, hotels, other workplaces or facilities that would  be accessible to the  public, should have such designated smoking areas that cater for both smokers and non-smokers  alike.  This  is the current practice in Barbados, Jamaica and Trinidad. We should continue to bear in mind that the topic of discussion is a legal product", she argued.
On the question of hawkers, Kirton said "This type of trade has been around from time-immemorial and is not unique to Guyana. In fact, this type of activity currently exists throughout the region and the Tobacco Control Bill will now restrict     the execution of this trade. It is our belief that the  Government can in fact regulate hawkers, but in a way that will allow them to continue their  trade with a stricter way of operation".
According to the bill's explanatory memorandum, the purpose of the legislation is to fight the tobacco epidemic by implementing the evidence-based requirements of the World Health Organisation's Frame-work Convention on Tobacco Control, which Guyana acceded to on the 15th of  September, 2005.
It provides for bans on smoking at all indoor workplaces, public transport and strictly regulates the sale of cigarettes while creating reporting requirements for manufacturers, wholesale distributors or importers. Further, penalties for various offences range as high as $9 million and a period of imprisonment, while it will also see pictorial and health warnings having to be placed on at least 60% of the packaging on tobacco products.
Persons would also be prohibited from smoking in any area within five metres from a window or doorway to any indoor public place or workplace; anywhere on the premises of and within five metres from the boundaries of any health care, educational and child care facilities; and in any waiting area or queue, including but not limited to public transport stops, bus stands and bus parks.
Smoking would also not be allowed at parks, playgrounds and amusement parks; a stadium, arena, or any kind of sports or performance space; any designated site of historic or national significance; a space for the service or consumption of food or drink; and any other outdoor space specified in regulations. Any person who smokes in a place where smoking is prohibited can be fined $10,000 for the first offence and $20,000 for the second offence.
Around the Web