Two unmasked bandits yesterday afternoon stormed the E-Networks store located in the Mon Repos mall where they held the employees and customers at gunpoint before carting off  an undisclosed amount of cash and five cell phones.
Divisional Commander Calvin Brutus confirmed the incident which took place around 3 pm. The bandits, one of whom was armed with a shot gun, made good their escape in a silver-grey Toyota Premio motor car, HC 2667.
According to reports reaching Stabroek News, the bandits invaded the store which is located in the lower flat of the mall and held five persons including two sales representatives at gunpoint. They then ordered them to lie on the ground after which the suspect who was armed with the gun allegedly jumped over the counter and ransacked two canisters which were open, carting off an undisclosed amount of cash.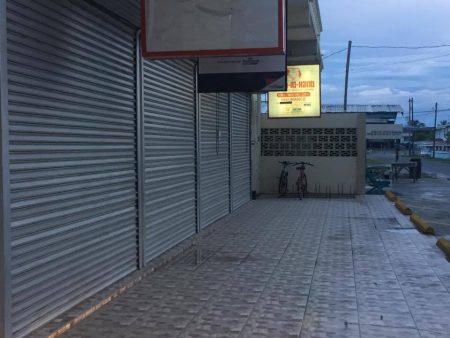 The bandits then proceeded to tie up the victims and relieved each one of them of their cell phones and cash before escaping.
When Stabroek News visited the scene yesterday, the business was already closed.
A woman, who works in a nearby store said she had just exited the store she works in on the second flat of the mall when he saw a crowd. Upon enquiring, she said she was told of the robbery.
The woman said based on what she was told the bandits were seen lingering outside the store minutes before the incident. "I hear is two young boys. They go in there and tie up everybody and take away everything they could and then they went in the car that they waiting on them", she said.
The mall houses several businesses including a bank and a gym. However, this newspaper was told that the E-Network store has no security guard.
The store is monitored by CCTV footage but the bandits fled with the DVR.
A police investigation has been launched and no arrest has yet been made.
Around the Web