The decomposing body of a Port Kaituma gold miner was found at Black Water Creek, Cuyuni-Mazaruni on Monday.
The body of Don Mark Williams, 31, of Port Kaituma, Region One, was found by passersby, who became suspicious of the odour along a trail in the area.
According to 'F' Division Commander Ravindradat Budhram, Williams was identified by co-workers from a visible tattoo. Budhram said that the police were alerted to the body on Tuesday, after a resident from the Black Water Creek area found the body the previous night. He said residents had noticed a foul odour when passing along the trail and they discovered the body when they went to check.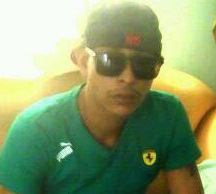 According to Budhram, the police were unable to determine what happened to Williams, since his body was in a "badly decomposed" state. He noted that the body was buried in a shallow grave at the site where it was found, since the police were unable to transport it to the nearest medical centre.
The commander said that a pathologist will have to travel to the site over this weekend to conduct a post-mortem examination.
Verona Williams, a cousin of the deceased, told Stabroek News that she last saw Williams two weeks ago, when he visited her at her residence on the East Coast of Demerara. According to Verona, her family believes that Williams was murdered based on what they heard from the villagers in Black Water Creek. "…A woman said that they saw him on Friday with another boy walking, and on Saturday they said they saw the same boy with mud all over his skin and with a cutlass and they asked him what happened and he said he fell into a hole… they said it look like he [Don Williams] dead from some lash," the grief-stricken woman related.
Verona said that the boy, whom the villagers had questioned, later disappeared. According to the cousin, the news of Williams' death came as a shock to her family. "He was a friendly and funny person, likes to make a lot of friends, so I can't see why anyone would want to kill him," she added.
Williams, she said, had his whole life ahead of him, as he was engaged to be married.
Around the Web