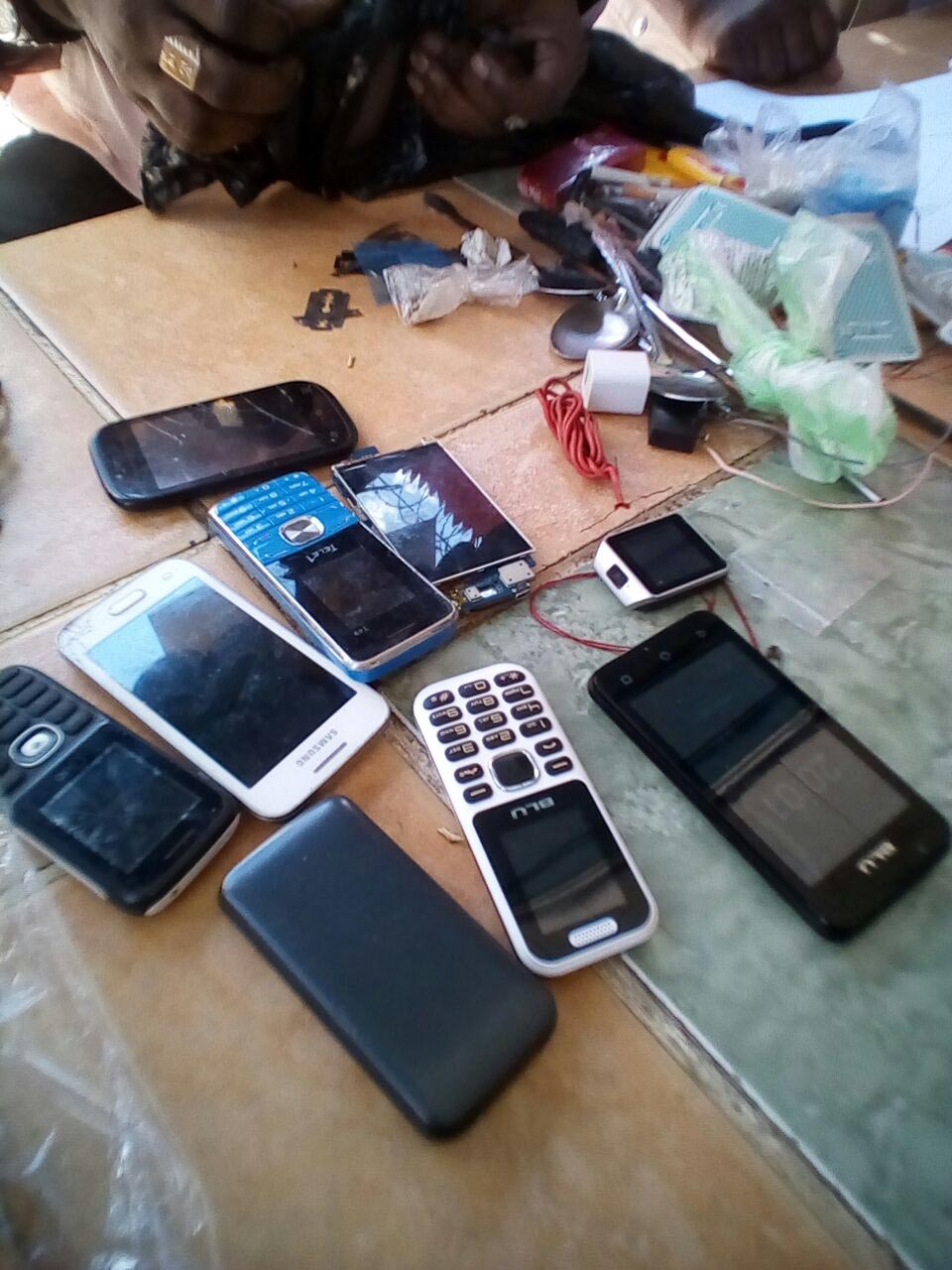 Improvised weapons, mobile phones and marijuana have been uncovered following searches at the prisons at Timehri and New Amsterdam and the holding area outside of the Lusignan Prison and acting Prisons Director Gladwin Samuels yesterday said that the lives of his officers have since been threatened.
Samuels subsequently told the media that an investigation has been launched into the discoveries.
The contraband discovered at the Timehri Prison was as a result of a two-day operation.
In a press statement, the police force said that a convicted prisoner's cell was searched on Wednesday afternoon and 180 grammes of cannabis were found. As a result, Joint Services ranks conducted a "thorough search" of the cells at the prison yesterday between 9.40 am 12.30 pm. They found 16 improvised weapons, three cellular phones, five phone chargers, a quantity of tobacco, 305 grammes of cannabis, eight packs of cigarettes, eight lighters, seven smoking utensils, two dining forks, two pairs of scissors, a bottle of pepper sauce and a tattoo machine.
Samuels said that following the first discovery, which was made around 2.30 pm on Wednesday, a prisoner implicated a prison officer. Samuels said that the intended recipient of the marijuana found was "talking about killing prison officers," resulting in the police being called in to investigate.
He said based on the information provided, a Joint Services search was ordered.
Meanwhile, police also reported yesterday that Deputy Commander of 'B' Division Senior Super-intendent Edmond Cooper along with 20 police ranks and seven prison officers conducted a search at the New Amsterdam Prison between 10 am and 1.30 pm. They targeted two dorms, two landings and cells and discovered eight cellular phones, five phone chargers, three phone batteries, a cellular phone display, three pairs of earphones, 20 packs of cigarettes, three grammes of cannabis, 16 lighters, and two tattoo machines.
Only last Friday, a quantity of improvised weapons and cellphones were among the contraband recovered in a Joint Services search of the New Amsterdam Prison, after police were tipped off that attempts were being made to smuggle items into the facility.
Samuels also said yesterday that improvised weapons, nine cell phones, lighters and spoons were also discovered during a search of the recently constructed holding area outside of the Lusignan Prison.
During two sanitation exercises at the holding area at Lusignan last month, a total of 49 cellphones and a number of improvised weapons were found.
For years, prison authorities have struggled to keep contraband out of the prisons and the situation has garnered more attention following the recent jailbreak and devastating fire at the Camp Street Prison.
There have been a number of instances where prison officers have been caught smuggling items in for prisoners. Some have been charged and successfully prosecuted.
During an interview last year, Samuels told Stabroek News that the Guyana Prison Service had identified several possible solutions, including the installation of body scanners.
"…The time has come for us to depend more on advanced technology and to minimise our reliance on the human factor and I am saying this because when you visit prisons across the world … [they] are very successful in terms of keeping contraband out because of the assistance given by technology, be it surveillance systems, [or] scanners for both bags and humans," Samuels had said before noting that the technological measures serve as a deterrent to persons who may want to make attempts to get contraband into prisons.
His comments were made in the wake of the discovery of an assortment of contraband, including weapons, drugs and mobile phones, after the Joint Services conducted raids on November 12 last at the Georgetown and New Amsterdam prisons.
Samuels stated that for a number of years the prison service had been facing a number of challenges as it relates to contraband being found in the prisons whenever searches are done. "We have asked ourselves several times why is it that every time we do these searches we would unearth so much contraband and we have been able to answer some of those questions," he had said.
As a result, the prison administration, he had pointed out, is trying to put several measures in place to reduce the presence of contraband. "The more we do persons will continue to find more innovative ways in terms of getting those items into the prison," he, however, added.
Prisoners, he reiterated, have continued to find creative ways to get contraband into prisons. He had said that it is because of these creative ways that the Guyana Prison Service has stopped persons returning from court and labour with food and drinks. He explained that he has seen cases where the contents of a sealed bottle of drink or water are not what they ought to be. He said he has seen prisoners swallowing and secreting both drugs and money.
He had said too that to ensure that there is no collusion, there were plans to ensure that civilians are involved in the searching of prisoners. "So nobody conducting the search can collude with any prisoner to allow any items to pass," he had explained.
Further, he had pointed out that the prison service was trying to acquire a special x-ray machine that would allow officers to detect foreign objects that may be hidden in the prisoner's body, such as in the anal cavity.
Around the Web