Imran Khan, the brother of the man implicated as the intellectual author of an alleged plot to assassinate the President, yesterday denied asking Commissioner of Police Seelall Persaud, who is his friend, for any favours in relation to the investigation.
Persaud has been named multiple times during the course of the Commission of Inquiry (CoI) probing the allegation as the one who passed the instruction to have the main suspect, Nizam Khan, released on the night of his detainment. Both Imran Khan and the accuser, Andriff Gillard, who had also been held police, were also subsequently released.
When Persaud testified before the commission, he denied passing any instructions to the officers, stating that he had instead offered his opinion on the matter. When Inspector Prem Narine appeared before the Commission yesterday, however, the officer maintained that he was instructed by the Top Cop as senior officers are not wont to offer suggestions, but pass instructions, in the disciplined forces.
But throughout his evidence-in-chief, which was led by Commission attorney James Bond, Imran stated and maintained yesterday that he has never, in their 12 years of friendship, asked the Commissioner of Police for any favours.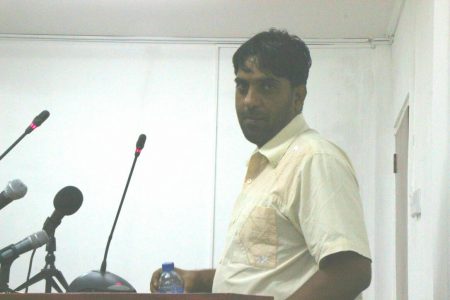 It has been established, both by Persaud and Imran, as well as other police that have testified before the inquiry, that the two are friends.
Imran stated yesterday that he has known Persaud for about 12 years. Asked about the nature of their relationship during cross-examination by his attorney Christopher Ram, Imran said that the two would have exchanges, information-wise.
"The Commissioner and I, it's mainly…what I would say is that we had a few exchanges in terms of information-wise, in terms of intelligence purpose, in regards to criminal elements in the area…and I would filter him with that information from time to time…," Imran related.
In response to testimonies that he would fix police vehicles at his establishment from time to time, he admitted that he has been doing so for a number of years, but said it is not a contractual arrangement and that Persaud has never asked him to do such.
Under cross-examination by Ram, Imran agreed that he has not been accused of being involved in the alleged plot and so could not have asked Persaud for a favour in that regard.
Imran described his relationship with his brother Nizam as not being very close and said that it was mostly based on business.
Asked about his relationship with Gillard, he described the man as his associate, while noting that he recalled three occasions in which the man approached him for favours, the first being to borrow money. He said he told him no, however, as he was privy to information that Gillard was in the habit of borrowing money and not repaying.
He also told Guyana Police Force attorney Ian Chang that he and Gillard attend the same mosque frequently.
Asked if he ever discussed Nizam with Gillard, he said that on two separate occasions Gillard had told him that Nizam had a relationship with his wife and he attempted to mediate. He said Nizam told him it was not so and he advised the two to keep their distance.
Personally, however, he said he had no issues with Gillard.
Of note, is that Imran testified that when he went to the Criminal Investiga-tion Department (CID) after hearing his brother was arrested, he took Stephen Persaud with him, as he believed the man had something to do with the matter. Stephen Persaud is the neighbour of Gillard and Nizam Khan. Gillard and Stephen had issues in relation to the simple larceny of tyres from the latter's business place.
Phone Calls
What has also been established by the commission is that Persaud and Imran spoke at least two times on the day of March 29, when the allegation against Nizam Khan was made.
Imran related yesterday that the first time he had cause to call Persaud was between 4 pm and 5 pm that day, after Nizam called him and told him that police were at his house without a warrant and wanted to conduct a search. Furthermore, he said his brother told him that they had not put any allegation to him.
Imran said he called Persaud and told him what had happened and the Commissioner later called him back and related that the allegation against his brother was a serious one and he should tell his brother to cooperate with the police.
Bond asked whether he made the call because he expected that Persaud would halt the search, and Imran said no. he related that he was seeking assistance as to what was going on, based on what was related to him.
The second call to Commissioner Persaud, he said, was between 6 pm and 7 pm that same night.
He stated that he had gone to CID after he learnt that his brother had been arrested. There, he ran into Gillard on the stairway, and the man reportedly directed gun-related threats toward him, asking what he was doing there, and stating that he could not help his brother.
When he tried to report the incident to the police, however, he said the officers were reluctant to take a report.
He said Sergeant Komal Pitamber told him he would take a report but did not, so he went to officer Kenan Pickering, who told him he did not have time to do so, and so he took his complaint to officer Keon Benjamin.
He related that Benjamin told him to be careful as Gillard had been sent across from the Office of the President (OP), and another officer had challenged the authenticity of his report. He said they also claimed that there were no books available for them to take his report.
He called Persaud, but the call went unanswered.
The evidence presented by witnesses before is that Imran began behaving in a disorderly manner in the CID office, and as a result of this, was arrested.
Imran, however, testified yesterday that after the officers were giving him the run around, he raised his voice and told them that he had the comment made by Benjamin about Gillard being sent from OP recorded and that he would go to the Office of Professional Responsibility.
It was after saying so, he said, that he was arrested, and allegedly assaulted him in the process.
He said they took away his handgun and his phone and he speculated that Benjamin deleted the recording after running through it, while adding that he does not know what information he may have extracted.
He also reported being hit to the chest during the interaction, saying the police "manhandled" him and the impact left him with pain in the chest.
He stated that he had gotten a medical afterwards but could not recall if he presented a copy to anyone. He, however, said that he still had the original in his possession and could present it to the commission.
Imran said they had threatened to throw him in the lockups but Pitamber protested. He said he calmed down soon after because he did not want to be placed there.
Imran admitted that he had raised his voice and started cursing during the altercation, but related that the police were also cursing at him.
Asked by Bond whether he thought his conduct was appropriate for the CID office, Imran alluded to the treatment he allegedly received at the hands of the police and stated that all he was doing was protesting for his rights.
Bail
About an hour after his arrest, Pitamber indicated to him that he had been placed on $10,000 bail and instructed Corporal Laundry to take a report from him.
Imran said that he did not have cash on his person at the time and so was put to sit on the bench again after he finished giving his statement in relation to the alleged threats and assault.
When Persaud finally returned his call, Imran said he had already been placed on bail. He said his phone rang while it was in the custody of the police and Pitamber brought the device to him. He related to Persaud all that had transpired, including the fact that he was on $10,000 bail but did not have money on him, and that he was in pain from being assaulted by officers.
He denied ever suggesting to Persaud that he be put on a recognizance or asking for assistance at any time.
Around the Web