The mother of nine-year-old Jamal Williams, who was diagnosed with a tumour on his liver more than a year ago, is seeking the public's assistance to raise funds for him to undergo a life-saving operation.
"I am desperately asking for help so that his life can saved. Is long now he supposed to done do it, but is the money that I ain't get yet," a frustrated Natasha Williams told the Sunday Stabroek yesterday.
Jamal, who hails from lot 248 West Indian Housing Scheme, Bartica, was diagnosed with the ailment at the Georgetown Public Hospital (GPH) in January, 2016. Since then, he has been in and out of hospital and unable to attend school.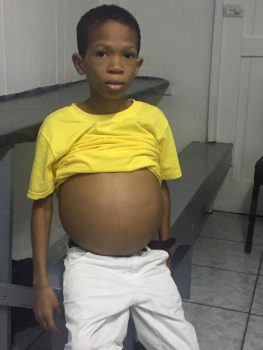 Doctors have recommended that he undergo an emergency liver transplant overseas. It can either be done in Brazil or India at a cost of around $6.5 million. Natasha said she has since received a quotation from a children's hospital in India for the cost of the surgery. This, she said, does not cover additional expenses, including travelling and accommodation for one of Jamal's parents who would most likely have to be the donor for his surgery.
During her visit to this newspaper yesterday, the single parent mother of six said that she has visited the Ministry of Public Health on several occasions but was unable to meet with the minister. She said she still does not have any guarantee of any help that will be offered since the promise that a call would be returned to her is still to be realised.
Natasha said she was forced to leave her job to take care for her eldest son, since he is in need of special care. "He can't live life as a normal child and I really wish if we could raise this money as soon as possible before his health worsens," she said. She explained that she learnt that the surgery can also be done in Brazil at a cheaper cost, but noted that the main focus currently is to raise the funds.
"It's a lot of pain he going through and every time he take in I have to rush him to the hospital. He can't eat most things and most days he does hardly eat anything," she lamented adding that financially she has been finding it difficult since she also has to maintain her other children.
Jamal's diagnosis was made when he was admitted to the GPH's Paediatric Ward in January last year after sustaining trauma to his abdomen. At that time, he was stable and had only complained of abdominal pains.
Natasha explained that Jamal had returned from school and informed her that he fell and hit his stomach on a stone. "When he come home and tell me that, I tell him 'no son' and I started to enquire what really happened. Then I heard that he and someone had a fight in school and the child kicked him to his belly," she said. Later that evening, Natasha said, Jamal started to complain about severe pain in his abdomen and he was rushed to the hospital.
An examination revealed an enlarged liver and spleen and he was admitted to be further examined. This was followed by several other visits to the hospital after which doctors informed Natasha that Jamal needed a liver transplant, which cannot be done in Guyana.
Anyone desirous of donating funds to Jamal Williams can do so at Scotiabank account # 175-441 or contact his mother on telephone numbers 689-0957, 673-4238 or 661-6106.
Around the Web