The government on Friday closed the door on the possibility that the recently passed anti-tobacco legislation would be reviewed prior to its impending enactment.
Following the passage of the landmark Tobacco Control Bill 2017 in the National Assembly, the Demerara Tobacco Company Limited (Demtoco) has called for the bill to be sent to a parliamentary select committee, although the Standing Orders only cater for bills to be sent to committee prior to passage. The Private Sector Commission has also endorsed the call.
But State Minister Joseph Harmon on Friday said the period for a review of the bill had already passed.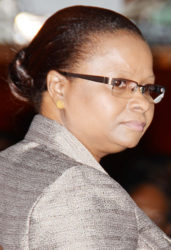 "I see someone saying the bill should go to select committee. We have passed that stage and therefore it will soon be law," Harmon told a post-Cabinet press briefing at the Ministry of the Presidency.
"This is now a bill which is fully debated at the National Assembly and once the paper work is completed, it will be submitted to his Excellency, President David Granger, to be made law," he added.
Demtoco officials last week suggested that the government could lose tax revenue if the bill is signed into law in its current form. They noted that the company paid some $4 billion in taxes last year.
Harmon, in response, said the APNU+AFC government believes that the health of the nation is invaluable and that no price can be put on a citizens' life.
Public Health Minister Volda Lawrence echoed this sentiment in a statement issued on Friday evening, while noting that the government spends billions of dollars on public healthcare every year to treat non-communicable diseases (NCDs), for which tobacco is one of the risk factors. "The tobacco industry wants to talk about taxes, but what monetary value do we attach to every human life lost, to every father who dies prematurely and leaves his children without his love and financial support? Caricom countries that rely heavily on tourism and entertainment have chosen to put the health and wellbeing of their people above unsubstantiated claims of economic fall-out by the tobacco industry. Why should we do less?" she asked.
With the passage of the bill, Lawrence noted, Guyana has joined sister Caricom states Trinidad and Tobago, Barbados, Jamaica and Suriname in safeguarding the health of present and future generations from the "devastating health and socio-economic effects" of tobacco use and exposure to tobacco smoke.
"The Ministry of Public Health believes that the implementation of the Tobacco Control Bill will significantly reduce the number of lives ravished by the death, disease and disability that the tobacco epidemic brings, and will lead to future generations being tobacco-free," she said.
"The Bill is a much needed and long-overdue measure. Tobacco use is the one risk factor that is common to four major classes of [NCDs], those are cancer, cardiovascular diseases, chronic respiratory diseases and diabetes. These deleterious health effects are not just felt by the smoker but by those who inhale secondhand smoke. You know when we think of smoking, we think of cancer alone, and smoking does cause every type of cancer you can think of, but smoking also damage blood vessels and can result in strokes and heart attacks, and increases the chances of amputations and blindness in diabetes sufferers," she was further quoted as saying.
In response to the call by Demtoco for the bill to be reviewed before enactment, Lawrence also noted that no Member of Parliament had called for the bill to go to a special select committee.
Demtoco's Managing Director Murlain Kirton last Wednesday said that the company would have expressed its concerns on the bill to both the ruling coalition and the opposition and as a result it was taken aback when the bill was passed without it being sent to a select committee. "We have written to each Member of Parliament formally expressing our areas of concern and we have sought to have meetings. We have been able to meet with some government ministers, we have met with members of the opposition, so we have been raising our issues. The expectation is the fact we have been having those engagements, we felt that the bill should have gone to a select committee. So we are a little surprised when we heard the bill was passed," Kirton said.
Demtoco has also decried the ban on selling in trays that would be instituted by the bill. Once enacted, it would prohibit vendors from going into any public place carrying any tobacco product, electronic delivery system, or component, in a tray, container or otherwise to make sales or to commercially display the product.
In her statement, Lawrence noted that vendors will still be able to continue to ply their trade in the markets and on the streets. "But we don't want vendors to walk around selling tobacco products, we want them to be in a stationary location so that we can ensure that they are not selling to children, marketing cigarettes, or selling cigarettes that are not packaged and labelled in accordance with the law," she, however, added.
Lawrence also pointed out that before the new laws would implemented, an effort would be made to meet with the vendors and to educate them on compliance.
The provisions of the bill do not come into effect until nine months after it is enacted.
The bill is intended to fight the tobacco epidemic by implementing the requirements of the World Health Organisation's Framework Convention on Tobacco Control, which Guyana acceded to on 15 September, 2005.
It provides for bans on smoking at all indoor workplaces and on public transport, and strictly regulates the sale of cigarettes, which will include requiring the placement of pictorial and health warnings on at least 60% of the packaging on tobacco products.
Persons would also be prohibited from smoking in any area within five metres from a window or doorway to any indoor public place or workplace; anywhere on the premises of and within five metres from the boundaries of any health care, educational and child care facilities; and in any waiting area or queue, including but not limited to public transport stops, bus stands and bus parks.
Smoking would also not be allowed at parks, playgrounds and amusement parks; at stadium, arena, or any kind of sports or performance space; any designated site of historic or national significance; a space for the service or consumption of food or drink; and any other outdoor space specified in regulations. Any person who smokes in a place where smoking is prohibited can be fined $10,000 for the first offence and $20,000 for the second offence. Further, fines for various offences go as high as $9 million and penalties also include imprisonment.
Around the Web