Investigations into a fire that left nine persons without a home after it gutted their two-storey house on Friday night are ongoing.
Stabroek News was told that an alarm was raised just around 8.15 pm after smoke was seen emanating from the back of the house, located at 108 Caesar Street, Agricola, where eight of its nine occupants were said to be asleep at the time.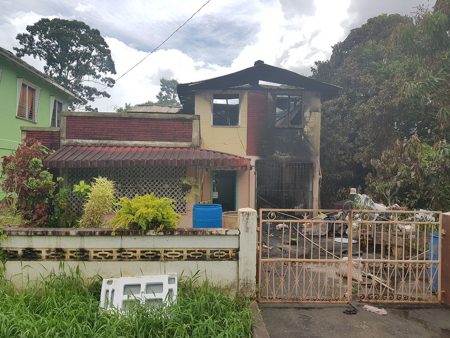 Not long after, the Guyana Fire Service (GFS) arrived on the scene and managed to contain the conflagration but not before it destroyed the top flat. No one was injured.
When this newspaper visited the scene yesterday morning, Guyana Power and Light personnel were attempting to restore electricity to the area. None of the occupants of the house were around and checks with neighbours yielded no results since they said they did not know the family's new location.
According to usually reliable sources, investigators from the GFS are looking at the possibility that the fire was caused by children who were left unattended in one of the back rooms in the top flat of the building.
Around the Web