The opposition People's Progressive Party/Civic (PPP/C) has declared the State Assets Recovery Agency (SARA) to be a super ministry staffed by "political hacks" being paid from the public purse to fulfil a political agenda.
Speaking at a press conference held yesterday, PPP/C Member of Parliament Juan Edghill declared that based on the compensation being offered, even he would be willing to work at SARA.
Referencing a document laid in the House on Friday, Edghill showed that those employed at the agency are being paid sums which equal and in some cases exceed the salaries on the higher end of the General Service Scale.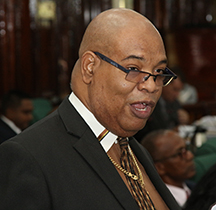 Director of SARA Professor Clive Thomas is afforded a monthly compensation of $1,380,000. This includes his base salary of $1.3 million and $50,000 and $30,000, respectively, in risk and travel allowance.
It was noted too that two lawyers employed by SARA, each receiving a monthly salary of $1,400,000, are earning more than the Director. With SARA employing the two lawyers, PPP/C MP Anil Nandlall questioned the agency's need for a legal advisor, who is employed for a monthly salary of $630,000 plus a total of $80,000 in allowances.
Thomas' Special Assistant, identified as Dr Eric Phillips, is being paid $980,000 per month, while employees such as receptionists, drivers and security officer are being compensated at a rate of $120,000 per month.
"I want a job at SARA. I would like young people to have a job at SARA because a receptionist is making $120,000, the driver $120,000, the cleaner makes $75,000," Edghill shared.
He also identified the rental cost for the building which will house the agency as being US$8,000 per month.
"We don't know where it is yet but we know it is US$8,000 per month to rent it," he said referencing the supplementary allocation approved last Thursday.
During the sitting, the Committee of Supply approved a total of $116.3 million in supplementary funds for SARA.
The requested allocations included the sum of $89,897,285, which was sought by the Ministry of Legal Affairs for five managerial staff, 13 technical staff, 12 supervisory and clerical staff, and 12 services and related staff for SARA.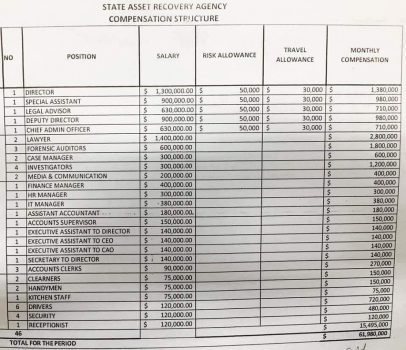 The number of staff employed by the agency did not go unnoticed by Edghill, who argued that based on the number alone, SARA has become a super ministry.
"Forty-six staff makes it a ministry. Several of our ministries didn't have 46 staff," he said, while identifying the former ministries of Housing, Industry and Commerce.
Edghill concluded that based on the salaries and staff allocations, SARA is a space where "political hacks [are] being employed to do political works so that they could get political compensation. This is public money, taxpayer money being spent."
He called on the public to cry out with a loud voice "shame, shame, shame on the APNU+AFC" for using the public purse to carry out its political agenda.
In June, Stabroek News reported that weeks after the long-awaited State Assets Recovery Bill was passed, the newly-established agency was operating without a budget. Chief Executive Officer (CEO) Major (rtd) Aubrey Heath-Retemyer had, however, noted that the entity's financial plan would have been submitted within another few weeks which would pave the way for key administrative matters to be addressed.
He had explained that among the top priorities are the completion of the budget, the hiring of required staff, including lawyers and the rental of a building, which will see the agency being removed from the Ministry of the Presidency compound.
Around the Web