Several years after Barabina Hill in the Mabaruma Sub-region started to experience issues with its main access road, residents are still fuming over its deplorable state.
A recent visit to the community by Stabroek News allowed for a firsthand look at the road which many residents now refer to as the "Barabina swamp."
Travelling to and from Barabina is a challenge. The road, which is inundated by almost 2 feet of water only allows for vehicles to travel to a certain point. The rest of the journey is continued on foot along a walkway that was constructed using a 'Jubilee grant', which Barabina was awarded last year.
According to village leader Roxanne Skeete, who, along with a number of other residents, spoke to this newspaper, everyone is frustrated with the situation, especially since countless reports made to the Regional Administration and higher authorities are yet to yield any results.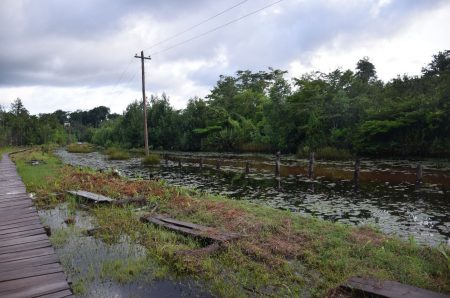 "When I attended the Regional Toshaos Council couple weeks ago I raised my concerns about the road again because it seems like all these other roads except ours being looked after," Skeete said.
"This is the main road to our community and I cannot understand why it cannot be fixed up to now. Two engineers who came here a while back from Georgetown checked the road and when I asked them about it they told me it is a technical problem but I don't know what sort of technical problem," she added.
"They promised that in 2017 they will budget for our road but the year almost finish again and still nothing ain't doing. We are punishing here… Look at the situation when we got to go to the market. We have to fetch our things when we go down there and when we coming from the market we gotta fetch it up again, or if we can't fetch it ourselves we have to pay someone else to do it and then pay another money for the car to take it to Kumaka," one resident vented.
"We don't really need so much things here – but our road. In a community, there are three important things that you'll need, water, light and road, but look at the condition of our road, it is a river not a road. Minister [of Public Infrastructure] David Patterson came and promised to do something about the road but we never saw him back again. This minister came in, that minister came in but nothing in doing," the man added.
"When people get sick you got to fetch them out. If somebody dead, you have to fetch them out on a stretcher so it's not easy here. Students have to travel out to go to high school and when it's raining its worse. When you got your chicken to carry to market and sell you have to fetch down your chicken or pay a man a $1,000 and when you carry it to market they only paying you $460 a pound; this is not easy," another resident told Stabroek News.
Notwithstanding the numerous attempts made by both past and present administrations to remedy the situation said to be caused by the overtopping of a nearby creek, which connects to the neighbouring community of Kumaka, the state of the road remains the same and residents continue to feel the strain.
In May 2016, according to a Government Information Agency (GINA) report, Minister in the Ministry of Public Infra-structure Annette Ferguson had stated that the road had been rehabilitated in keeping with a promise she had made to the community during a visit there in February that year. How-ever, days following the publication of that GINA release in the Stabroek News, a letter writer refuted it stating that a visit to the area on May 22, found the road in a deplorable state.
One month later, a technical assessment team from the ministry was scheduled to visit the community to look at the Barabina-Matarkai road with the intent of rehabilitation. Senior Hinterland Engineer at the Public Infrastructure Ministry Naeem Mohamed had explained that the report intended to highlight three areas.
"First, it will look at the use of a hydrologist to study the water flow to see whether there is a way to find an alternative route to divert the water from Barabina itself. Next, it will look at doing a geotechnical report within the area and lastly, it will be looking at the feasibility of an alternative route to Barabina itself," he was quoted as saying.
At that time, GINA had said that based on those three areas, the team will be able to determine if additional works on the road would be necessary or if an alternative route to Barabina would be created.
However, residents told Stabroek News that nothing has been done since the last visit was made.
Around the Web