Better Hope on the East Coast Demerara was sent into shock after the body of 51-year-old Randolph Seenauth was found in his home yesterday morning decapitated.
According to a police press release, around 4:30 am, neighbours heard a loud commotion coming from the man's 8 x 12 house. The police were subsequently summoned and found Seenauth's body on a mattress in his bedroom. His head was in the kitchen area.
The suspect, a 25-year-old nephew, turned himself in to the police at the Sparendaam Police Station and is currently assisting with the investigation.
Stabroek News visited the man's house at Lot 125 South Better. The area was still cordoned off by  police tape and no one was around.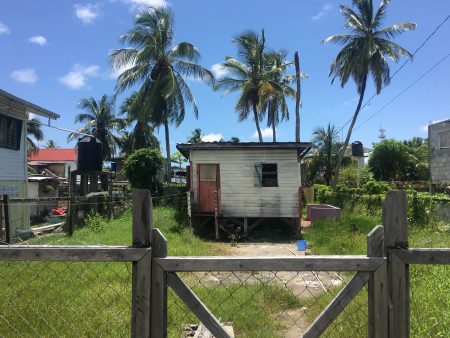 Neighbours expressed shock and disbelief that someone had brutally murdered the man they all considered to be quiet and someone who "kept to himself."
"If I tell you anything bad about that man it would be a lie. He don't trouble nobody. All he does do is drink nuff but besides that he don't trouble nobody. Everybody know him cause he deh deh long. Plus his family living in the next village so everybody know them," one of Seenauth's neighbours told Stabroek News yesterday.
The villagers said that they are baffled and could not comprehend why anyone would want to kill the man, especially in such a manner. "Is nah like he got nuff money and you could blame thieves or so. Watch what he does live in, a small house and he don't even work or have anything for you to rob people. It don't make sense," another neighbour, who didn't want to be named, pointed out.
Stabroek News visited the man's relatives some three streets away from where he lived. The family related that they were grieving and did not want to say anything. Seenauth's sister explained that the family is leaving the matter to be dealt with by the police and are just waiting to see the outcome of the investigation.
While the police had said that the 25-year-old, who is in custody assisting with the investigation, was residing with the man, the family related that it was untrue and that he lives in the house behind Seenauth's home.
Seenauth's family said they were mystified as to why anyone would want to murder the man but did say that there is a dispute between some family members over the ownership of the land where Seenauth's property and one of his sister's property are located. However, they also pointed out that the matter was before the court.
Around the Web