President David Granger said that sport can be an important tool for social development as it bridges gaps and brings together, people of all backgrounds.
It is for this reason he said, that his Administration is working on the formulation of a National Sports Policy, which aims at employing sport to harness the personal, social and economic development of the country's peoples and to "become a guidebook for cooperation among regions and improving relations with external states".
A release from the Ministry of the Presidency said that the Head of State made these remarks yesterday in his address to residents of the Cuyuni-Mazaruni (Region Seven), where he declared opened the 20th Annual Upper Mazaruni District Games. The games are being held at the Kamarang Sports Ground. 
"These games are pointing Guyana in the right direction. These games are an excellent example of what I believe in… Sport can be a tool for economic development. It can create employment, stimulate business and attract tourists… That policy will help to ensure that the people of not only the Upper Mazaruni but of all of Guyana could bring their talents to bear to improve their lives and to improve the quality of life of the whole country. We want to see in this National Sports Policy, every region doing what the Upper Mazaruni is doing here," he said, according to the release.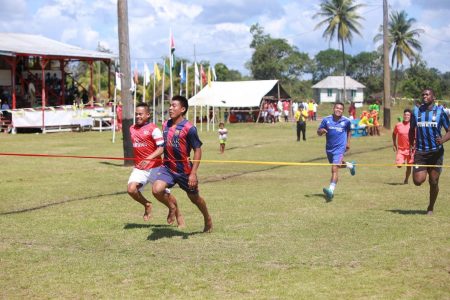 Granger added that the Government stands ready to work with citizens to unlock their talents, skills and organisational abilities.  To this end, the release said that the Ministry of Education presented cheques to five communities valuing $500,000 each to maintain their respective sports grounds. The communities are Kaikan, Chinoweing, Phillipai, Kako and Waramadong.
"Sport can break down barriers of class, race and religion and foster social cohesion and community cooperation… Sport can be a tool for economic development. It can create employment, stimulate business and attract tourists. A National Sports Policy will foster personal development and human health and promote psychological and emotional well-being; and challenge athletes to surmount their limitations and teach the values of discipline, team work and leadership," he added.
Meanwhile, 19-year old Gerald Issacs from Waramadong Village said that he is confident that his 50-member contingent will shine at this year's games. Last year, the team placed fourth.
According to the release McFarlane George, an athlete from Kamarang, said that his entire village is very proud to be hosting the sporting event.
Sandro Edmonds, who is a member of the Paruima Sports Club, said that he has a contingent of 64 athletes, who have all been undergoing rigorous training in the lead up to this event.
The games, which are being held under the theme, "In the spirit of unity, we claim victory" run from August 6-13. The communities participating in this year's event include: Pariuma, Waramadong, Kamarang, Kako, Jawalla, Phillipai, Imbaimadai, Chinoweing, Quebanang, Kaikan, Arau and for the first time ever, Chenapau from the Potaro-Siparuni (Region Eight) and San Juan from neighbouring Venezuela.
Around the Web