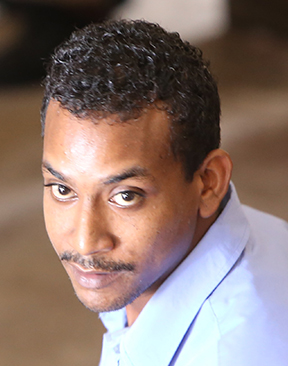 Police Constable Leandre Gillis, the junior rank recorded being verbally abused by Assistant Superintendent of Police (ASP) Frank Thompson, yesterday told a court that he received a threat to his life during the encounter, which had been widely shared on social media.
Gillis took the stand yesterday before city magistrate Fabayo Azore at the trial of Thompson, who was charged with using abusive language to him on February 22, at Broad Street, Georgetown.
Gillis, who is stationed at the Brickdam Police Station, where he is attached to the court superintendent's office, said he was performing duties with other ranks in a police vehicle on the afternoon of February 22, when he was stopped by Davendra Ram.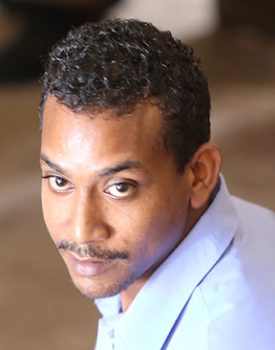 Ram, he related, alleged that Thompson hit his (Ram's) vehicle from behind and then proceeded to "buse" both him and a pregnant occupant of the vehicle.
Gillis said he subsequently proceeded to motor vehicle PVV 2106 and tapped on the window on the driver's side. He then greeted the driver, whom he learnt to be Thompson and told him of the allegation that was made against him.
The court then heard from the witness that Thompson went back to his car and as a result Gillis was forced to rap once again on his window. He said Thompson then exited his vehicle and asked, "What the f*%$ you gon do 'bout it?"
Thompson, according to Gillis, went back to his vehicle and locked the doors, causing him to proceed in front of the vehicle and then knock on the bonnet to get his attention. He said Thompson then exited the vehicle and folded his arms.
Gillis noted that at this time he asked Thompson for a form of identification and was told, "I don't have no f****** ID."
Thompson, Gillis added, went into his back pocket and handed him a little red book, which he subsequently used to record the defendant's name and licence number. As he was doing so, Gillis added, Thompson began to shout, "Yo! Yo! Ya done?" He said he nonetheless continued making the entries. Once again he heard, "Yo! Yo! Constable, ya ain' hear a talking to ya? Ya f****** done?"
Gillis told the court that he told Thompson that his licence was in the possession of the police and that he was taking him to the Ruimveldt Police Station since he was behaving in a disorderly manner.
At this point, Gillis said Thompson began to use a series of expletives, while standing near to his face and pointing his finger. He said he told the defendant not to curse when he was speaking to him.
"What the f*** you gon do 'bout it?" he quoted Thompson as replying.
"Sir, I don't hit civilians," Gillis recalled saying in reply.
"Good, 'cause you know f****** better," he quoted Thompson as saying afterward.
According to Gillis, he then ordered that the accused go to the Ruimveldt Police Station, which set Thompson off.
"You know who is me? You know me? Call 'A' Division! Call Brickdam! Call TSU. Bai find out 'bout me yeh, 'cause I'll kill you and them. Bai I'd murder ya muda s**** right hay pon di ground," he recalled being told by Thompson.
Gillis noted that he pleaded with Thompson to desist from cursing and pointing his fingers in his face.
"You want we done this? I'll black ya s**** out right hay," he once more quoted Thompson as telling him.
Gillis mentioned that Thompson continued to use a series of expletives, before declaring, "Y'all lucky! Y'all lucky! Y'all f****** soft. If I had my way you wouldn't be a f****** police."
Gillis noted that Thompson then said, "How you think I could afford a vehicle like this and that? I'll kill ya pon di ground hay! I'll kill you pon di ground hay!"
Gillis added that Thompson then suggested that they go to the Brickdam Police Station to deal with the accident and said he then ordered both drivers to proceed to Brickdam.
He stated that while the other driver complied with his instructions, Thompson told him to jump into his vehicle for them to go. However, Gillis stated that he instead advised that the defendant drive and indicated that he would follow.
It was at this time, according to the constable, when Thompson sped off, causing him and the other ranks that were in the police vehicle to give chase.
The chase, according to Gillis, ended near George Street, where Thompson drove in the direction of oncoming traffic before reversing into another vehicle.
Subsequently, Gillis said he told Thompson to turn off his engine and exit the vehicle. Gillis noted that when the accused exited the vehicle, he then went off on him. "Is wah the f*** y'all want with me bai? What the f*** y'all want? Y'all behave like I do something f****** wrong!" he quoted Thompson again.
According to Gillis, Thompson then attempted to put his arms around him, at which point he informed that if he touched him he would be forced to defend himself. Nevertheless, Thompson continued and Gillis said he shoved his arms away.
At this time, Police Prosecutor Deniro Jones and a traffic rank arrived at the scene. Both officers were told of the incident, which later led to Prosecutor Jones requesting that Thompson go to Brickdam and he complied.
While at the Brickdam Inquiries office, Gillis stated that he spoke to an officer and stepped outside while Thompson remained in there. Moments after, he said Thompson went outside, went into the trunk of his car and pulled out an iron bar with a white handle and said, "This is wah I is do mi girls dem and bais like you I does guh down in."
Gillis noted that he proceeded to the court superintendent's office to report to ASP Winter and gave his account of what transpired. He later received a call from Senior Superintendent Brutus, which caused him to visit his office at Brickdam and he relayed the events between himself and Thompson.
At the end of his testimony, Gillis was asked by the prosecutor how he felt when the defendant was speaking to him and he stated that he felt abused and threatened.
Subsequent to Gillis' testimony, defence attorney Dexter Todd began an intense round of questioning.
During the cross-examination, Todd suggested that Gillis knew Thompson prior to the encounter but the witness denied. Todd then asked Gillis if he had reported when the defendant showed him the iron bar and allegedly threatened him. He said he did not.
It was then that Todd told the witness that he was attempting to mislead the court and paint a particular picture of Thompson's conduct.
The cross-examination of Gillis was suspended until August 15, when the trial will continue.
Around the Web