Jarren Huntley, the police constable who fatally struck a pedestrian along the Catherine Public Road, Mahaicony East Coast Demerara on Sunday afternoon, was reported to have been speeding before he lost control of the vehicle after swerving to avoid a bad patch of road, the Guyana Police Force said yesterday.
Carpenter Winston Small, 52, of Lot 2 Catherine Village, Mahaicony, was killed in the accident, while several others, including passengers who were in the vehicle with Huntley, were injured.
Stabroek News had reported that the accident involved four vehicles. However, based on a clarification provided by the police, that was a different accident in which no one was seriously injured.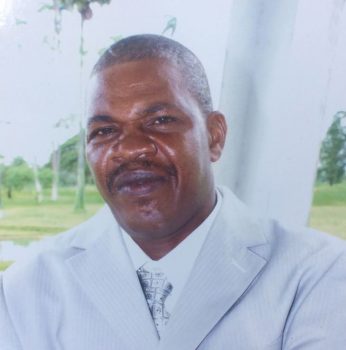 A police statement said yesterday that around 5.30 pm, Huntley, of El Dorado Village, West Coast Berbice, was proceeding along the northern carriageway of the public road, allegedly at a fast rate, in a car, PWW 1614, with three occupants.
He is reported to have swerved south to avoid an uneven patch on the road. As a result, the statement said, Huntley lost control of the vehicle, which collided with pedal cyclist Jaden Alleyne, 13, of Calcutta, Mahaicony. The vehicle then swerved and collided with two pedestrians, Small and Lawrence Semple, before coming to a halt in a nearby yard.
Huntley, Alleyne and Semple were admitted at the Georgetown Public Hospital on Sunday night after being transferred from the Mahaicony Cottage Hospital. Alleyne was subsequently discharged yesterday, police added.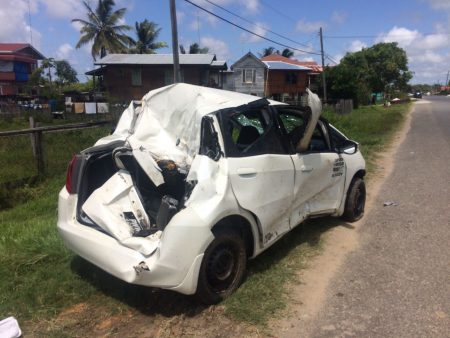 Also injured were the three passengers of Huntley's vehicle, Delroy Hutson, 35, Odari Reynolds, 23, and Fitzroy Goodridge, 23, all of El Dorado, West Coast Berbice. They were taken to the Mahaicony Hospital for medical attention. Hutson and Reynolds were treated and sent away, while Goodridge was kept for observation.
When Stabroek News visited the scene of the accident yesterday, residents were still shocked. Many were still repeating the events that changed the quiet Sunday afternoon into a chaotic one.
Residents said that the police constable was travelling to Berbice and from all indications he was speeding.
An eyewitness said after the vehicle hit Alleyne, the teen was thrown into air and landed a short distance away. Although he was able to get up, not long after he fell unconscious.
Small and Semple, the witness added, were on the corner of the road when they were struck by the vehicle. The car then toppled several times and crashed into a fence before coming to a halt.
The eyewitness further related that Small and Semple were found in the corner of a trench with multiple injuries.
Stabroek News was told that after the car came to a stop, two passengers managed to free themselves but first responders had to help free the others, who were trapped in the vehicle.
At Small's Catherine home, friends and family had gathered yesterday. His son, Odelle Small, told this newspaper that his father had left home to visit a friend. He said not long after, his family was informed of the accident. When he got to the scene, he noted, he saw his father alive and persons were preparing to take him to the hospital. He said that his father died sometime after 7 pm while receiving medical attention.
Around the Web