A Crabwood Creek labourer is now missing and is feared drowned after he left home on Saturday to go fishing with three friends in the Corentyne River.
The three fishermen have since been detained at the Springlands Police Station to assist with investigations.
Karamchand Parbhudyal, also known as `Dharo', 52, of Grant 1651 Crabwood Creek, Berbice is feared to have drowned in the Corentyne River.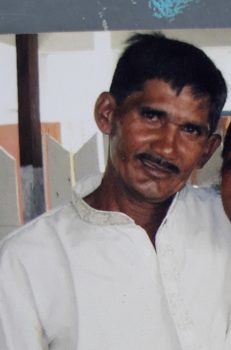 According to information gathered, the three men who were also on the fishing trip claimed that they left Parbhudyal standing in water up to his waist and took the boat a short distance away to set the seines. However, the men reportedly claimed that when they looked back Parbhudyal was nowhere to be seen.
According to Parbhudyal's daughter, Tanuja Parbhudyal, 26, her father left home and was heading to one of his friends' house early Saturday morning. She noted, that this was a norm for the man, since he would be hanging out and imbibing with friends whenever it was his day off from work. However, she then relayed, that around 2.30 pm on Saturday she was told that her father "went to go catch fish and na come back, that them man say how them na find him".
She said, she then spoke to one of the persons who was also on the fishing trip and was told, "Them left he a stand up about one house lot away and them a reverse with the boat and engine a throw out the line and when them left with three or four hooks to throw out them say when them raise back them head them couldn't a find he", she relayed.
According to the confused daughter, she cannot comprehend how her father could have drowned if he was standing in "waist height" water. "Me father is a very good swimmer and is a diver, he use to dive logs and so", she noted.
When questioned if her father was intoxicated when he left for the fishing trip, Tanuja said "yes", while she explained, that he was imbibing with the men before they left to go fish.
She emphasized that the men who were also on the fishing trip and her father have been friends for years. "Me know them men long and long he and them a friends, I don't think them would get a reason to do him anything, unless them get any misunderstanding on the spot out at sea", she said.
The woman further explained, that after the family received the message, they immediately launched a search party for her father. She said, the searched Saturday afternoon and in the night, and also on Sunday and Monday. However, they have still not yet found the man. She stressed, that the family is still hoping and praying that Parbhudyal is found alive.
Parbhudyal's wife told this newspaper, that she did not get to speak with her husband before he left home on Saturday morning. "He get up and gone before me wake up and he tell he grandson how he going by he friends them".
Around the Web