Emergency repair works will soon begin on the Leguan Stelling in Region Three (West Demerara-Essequibo Islands), the Department of Public Information  (DPI) reported yesterday.
The disclosure came following a June 26 letter in this newspaper by Hans Buer warning about the state of the stelling and several follow-up reports by Stabroek News.
When Stabroek News had last inquired about what would be done,  it was told last month by T&HD General Manager Marcelene Merchant that engineering assessments were being done of the stelling.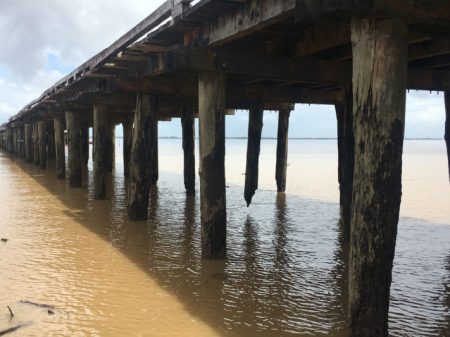 Yesterday, DPI said  that structural emergency works will be done with emergency funding before the end of the year, while full rehabilitation will be budgeted for in the Ministry's 2018 budget. This was confirmed to DPI by Minister of Public Infrastructure, David Patterson
According to  Patterson some of the findings in the preliminary report submitted, revealed that some of the piles had indeed deteriorated, though not to the extent to jeopardize the wharf.  He added that there is also much erosion of the metal strips and the need for some braces.
"While it is not structurally unsafe it gives the impression that the stelling is swaying under the weight so we have decided that we will put in some braces. We are looking at all of those and a lot of the boards at the stelling are loose, those we will do this year," Patterson said.
During a visit to the Essequibo River island stelling on June 27, Stabroek News observed that many of the piles that were used to support the structure were rotting. Additionally, the ramp used by drivers to access ferries was also deteriorating as were steps at the dock.
Every time a vehicle drove along the structure, it shook as if it would collapse.
Speaking to Stabroek News on June 27, boat operator Bassant (only name given) related that the stelling had been in that condition for more than two years and had been slowly getting worse. The man described it as a "deathtrap that is waiting to fall at any time."
"If you only go under the stelling when them vehicles driving pass, then you gon' be really worried. Every time you there and it pass, the whole thing does shake and tumble and you does got to wonder how much more pressure it could take," Bassant said.
The man explained that in addition to the constant fears of the stelling collapsing, drivers were also forced to reduce their loads out of fear of causing damage to the "dying stelling."
Around the Web