A closer working relationship was yesterday agreed between the Mayor and City Council (M&CC) and the Guyana Police Force.
A release from the Department of Public Information (DPI) said that the meeting was held at the Chambers of the M&CC with Assistant Commiss-ioner of Police Clifton Hicken, Commander of 'A' Division Marlon Chapman, Mayor of Georgetown Patricia Chase-Green, Town Clerk Royston King, Chief Constable Andrew Foo and members of the council.
The Town Clerk said that the M&CC is seeking collaboration with the  Police in light of the recent prison breakout.  King said that while the M&CC was aware of the incident it was not formally notified of the chain of events.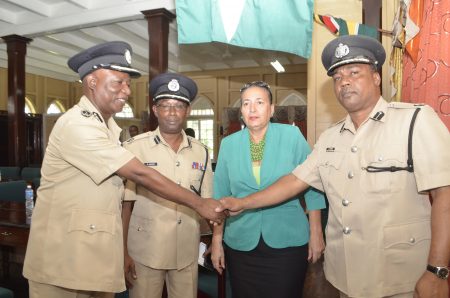 King said that while there are discussions between the city constabulary and the Police Force, information sharing needs to be more formal.
"What we are asking for is something that is more institutionalized, something that is more formal, something where we can meet on a regular basis and have discussions so we too can be involved in detecting and preventing crime in the city because we have a responsibility," he said.
Hicken said that the initiative is one which he welcomes since it will help to lower crime in the city. Hicken also noted that a Memorandum of Understanding (MoU) will have to be crafted for the collaboration to be effective.
He said that while the MoU is being crafted there are some immediate steps that will be undertaken. "By the time we are developing the MoU we can do some standing operating procedures which can start almost immediately," Hicken stated.
The immediate action taken by  Hicken was hailed by Mayor Chase-Green and other members of the council.
Around the Web