Two Chinese nationals were yesterday afternoon beaten and robbed of over $250,000 in cash and valuables when armed bandits carried out a brazen daylight robbery at a Good Hope, East Coast Demerara supermarket.
Yufei Xie, the proprietor of the Hang Chai Supermarket, and his brother-in-law, Zhoofei Xie, were brutalised by three men in the attack, which occurred around 2.15 pm on the premises of the Lot 157 Phase One Good Hope, East Coast Demerara business.
They were taken to the Woodlands Hospital, where they were treated and discharged.
The almost 15-minute ordeal was recorded by surveillance cameras.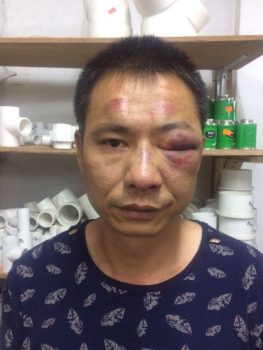 The three bandits, all armed with guns, exited a silver-grey Toyota Allion and rushed into the supermarket, where they held the victims, including at least one customer, at gunpoint and demanded cash. They eventually fled the scene with the cash, including the day's sales, three cell phones and other items, including several beverages from the supermarket.
No shots were fired during the attack.
When Stabroek News visited the scene yesterday afternoon, the supermarket was open for business as per usual and staff members were tightlipped about the attack.
However, Raymond (only name given), the owner of the building, which was rented to the Chinese nationals, said based on what he saw of the footage, the gunmen came into the supermarket posing as customers.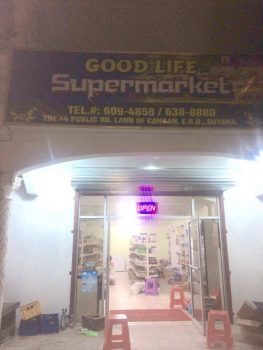 "Two of them come in. They did some walking around and was picking up stuff and put it on the counter like if they did buying," he explained, before adding that it appeared as though they were waiting for the customers who were present at the time to exit the supermarket.
"When they decide to make their move, there was one customer. They took his stuff and when he was about to exit one of them snatch he and pull him in back," the man added.
At this point, he said the gunmen closed the main entrance to the supermarket and whipped out their firearms. "They start to beat up the Chinese and search up them and the customers for cash and other items. They selected stuff, like the rum. They took the most expense ones. They took the champagne and started to pack a bag with Supligen and expensive stuff," he added.
Up to yesterday afternoon, police had not yet made any arrests.
Around the Web