Another man has succumbed following Sunday afternoon's accident on the Catherine, Mahaicony, East Coast Demerara (ECD), Public Road, taking the death toll to two.
Lawrence Semple, 43, a livestock farmer of Catherine, Mahaicony, ECD, died early yesterday morning, after being hospitalised since Sunday evening.  He was a patient of the Intensive Care Unit at the Georgetown Public Hospital (GPH), where he was nursing a fractured pelvis and femur and internal bleeding.
On Sunday, Semple and his friend Winston Small, who also died as a result of the accident, were walking on the road when they were struck down by a car driven by Jarren Huntley, a police constable who was allegedly speeding.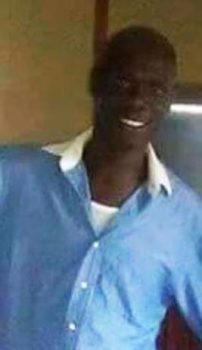 Huntley was reported to have been speeding when he lost control of the vehicle after swerving to avoid a bad patch of road, the Guyana Police Force said on Monday.
According to Semple's mother, Hazel Semple he will be greatly missed. She explained that the father of four, would spend his time tending to his livestock which they are unable to take care of now.
"This is more than a shock to me. I left him at the hospital yesterday (Monday), and he looked like he would have made it…this morning (Tuesday), around 1:00 [am], we got the call that he died," the grieving mother lamented.
Small, 52, a carpenter of Lot 2 Catherine Village, Mahaicony, was also killed in the accident, while a thirteen-year-old pedal cyclist, and three passengers who were in the vehicle with Huntley, were also injured.
After Huntley reportedly swerved south to avoid an uneven patch on the road, he lost control of the vehicle and collided with the pedal cyclist, Jaden Alleyne of Calcutta, Mahaicony. The vehicle then swerved and collided with the two pedestrians, Small and Semple, before coming to a halt in a nearby yard.
Huntley, Alleyne and Semple were admitted at the Georgetown Public Hospital on Sunday night, after being transferred from the Mahaicony Cottage Hospital. Alleyne was subsequently discharged on Monday, police added.
Also injured were the three passengers in Huntley's vehicle, Delroy Hutson, 35, Odari Reynolds, 23, and Fitzroy Goodridge, 23, all of El Dorado, West Coast Berbice. They were also taken to the Mahaicony Cottage Hospital for medical attention. Hutson and Reynolds were treated and sent away, while Goodridge was admitted for observation.
Huntley remains a patient at the GPH.
Meanwhile, a delegation from the Police 'C' Division, lead by Police Commander Calvin Brutus, yesterday visited the homes of the deceased, and offered their prayers and condolences.
Around the Web