The former soldier who is accused of decapitating his 51-year-old uncle on Sunday in what he claimed was an act of self defence was yesterday remanded to prison after being charged with murder.
Dwayne Tappin, 22,  of Lot 125 Better Hope, East Coast Demerara (ECD) was charged with murdering Randolph Seenauth.
The unrepresented defendant was not required to plead to the charge when he appeared before Magistrate Alisha George in the Sparendaam Magistrate's Court.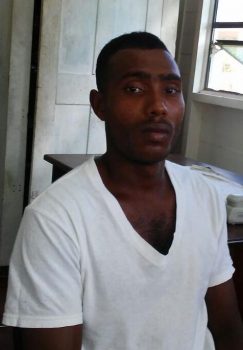 The matter was adjourned to August 28 when it will be called again for report. Seenauth's body was found in his Better Hope home around 4:30am on Sunday after neighbours reported hearing a loud commotion coming from the premises.
The police were subsequently summoned and Seenauth's body was found on a mattress in his bedroom. His head was in the kitchen area. The suspect, his nephew, turned himself in to the police at the Sparendaam station, hours after the discovery was made.
Seenauth's family had previously told this newspaper that they were mystified as to why anyone would want to murder him but had said that there is a dispute between some family members over the ownership of the land where Seenauth's property and one of his sister's property are located. The matter they said was before the court.
Meanwhile neighbours had expressed shock and disbelief that someone had brutally murdered the man they all considered to be quiet and someone who "kept to himself."
"If I tell you anything bad about that man it would be a lie. He don't trouble nobody. All he does do is drink nuff but besides that he don't trouble nobody. Everybody know him cause he deh deh long. Plus his family living in the next village so everybody know them," one of Seenauth's neighbours had told this newspaper.
The villagers had said that they are baffled and could not comprehend why anyone would want to kill the man, especially in such a manner. "Is nah like he got nuff money and you could blame thieves or so. Watch what he does live in, a small house and he don't even work or have anything for you to rob people. It don't make sense," another neighbor pointed out.
Around the Web