Under a barrage of questioning, Luanna Walker yesterday told the Commission of Inquiry into an alleged assassination plot against President David Granger that the accuser, Andrif Gillard did tell her that he planned to frame Nizam Khan, the man who is accused of orchestrating the scheme.
Walker, of New Diamond Housing Scheme, East Bank Demerara, during her evidence, told the commissioner that she did everything she could do to talk Gillard out from planning to do something "bad" to businessman Khan.
The allegation was made by Gillard that Khan had wanted him to assassinate the President at the cost of $7 Million. Khan had since denied the claim.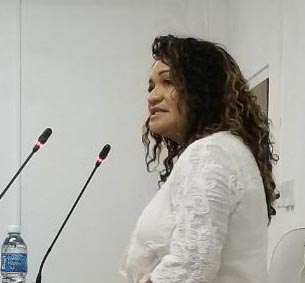 Walker, who said she knew Gillard for about three years, as her neighbour and business associate, told the commission that she knows from the bottom of her heart that Gillard is lying on Khan.
The woman explained that at her home Gillard came to her complaining about Khan and how he was interfering in his life.
"I said man but Andriff you and this fella ain't good? This is not the guy that open taxi service and all these things for you? And he said but Diva is a long story", the woman told the CoI. Walker said that she tried to advise Andriff on doing the right thing since he has a son.
"I said Andriff man you have to know what you doing and he said that `Diva' when I done with he you go see what I go do, I said Andriff do not go and do nothing stupid don't throw nothing in this man yard… his direct words to me was `Diva' I don't have to throw nothing in the yard I got better sense than that, when I done do what I have to do to the man, I will lose he away in jail" Walker told the commission.
She said that Andriff told her that Khan told him long ago to kill the president. "When he tell me that I said `look Andriff, don't go down that road because ungratefulness in life is worse than witchcraft'", Walker said, stating that those were her direct words of Gillard.
James Bond the attorney for the CoI, stopped Walker for amplification on what Gillard had told her Khan wanted him to do.
" …For clarification purposes, according to you just now your exact words were  'you know how long Khan told me to kill the president' those were your exact words?" Bond asked and without hesitation Walker said "yes" repeating that very statement she said Gillard made to her.
Years and months
Walker told Bond that Gillard told her what he was planning to do to Khan sometime this year. "What month did he tell you that", Bond asked. "Well to be honest I could not recall month and all of that because I wouldn't even know that it would meet to this I couldn't recall the month", Walker replied. "Do you have conversations with Gillard every month?" Bond questioned.
"I do not have conversations with Andriff every month… He and his wife normally does come over by me because they have issues and problems…" Walker said.
"Was Andriff over at your place during the month of January?" Bond questioned.
"…Man to be honest I cannot recalled which month, if is January or February but I know for sure Andriff used to be coming by me on a regular basis", Walker said.
Diverting from the questions asked by Bond, Walker said that she had other problems with Gillard apart from him not paying his rent on his section where he is a barber in her salon. She said that her stepson "Eddy'' who was a wayward teen would be around Gillard. She said very early one morning she got a call from someone, telling her that Gillard and her stepson were on Bagotville Road. "I call the police and I tell the police when they see this young fella (Eddy) must pick him up lock him up and call me", Walker related.
Bond went back to asking the witness what month Gillard spoke to her about his 'plans' for Nizam. Walker asserted that she could not recalled the month since Andriff would talk to her all the time, even briefly just to exchange pleasantries. "So you're saying that Andriff does not come by you monthly but on a regular basis"?
"As I said I can't recall Andriff coming by me every month, he does come when he has issues" Walker stressed. "I understand that ma'am, but this report was made in March so there were only two months preceding, the month of March in the calendar year… so I am asking you now if Andriff came during the month of January, remember this thing happened on March 29, so he can't come by you after March 29 and tell you about this, the conversation had to happen before March 29", Bond posited.
"As I told you I never look at date, time, month because it never really interested me…it only interested me when I saw it make news and I saw it on the internet…" Walker said.
Bond in his bid to jog Walker's memory then asked, if she could recall when she had this "lengthy conversation" with Andriff, or whether she had more than one "lengthy conversation" with him in January, February or even March but the witness told him that she could not recall. "I said I cannot recall the months sir but I know for sure it was not long after Andriff came to me the morning and he said what he said… I saw the news and I said to my kids you see what is going on here…?" Walker said.
Walker who became very agitated and heated at that point, said that she remembered telling him that he must not frame the businessman. "I even went so far as to tell Andriff best you go somewhere and jus wuk lil obeah on the man before you do something like that…and me and Andriff more close than me and the individual (Khan) because I don't know the individual, I jus know the individual coming to Andriff in my salon…" Walker stated.
Walker told the commission that Andriff is an abusive person, as he would abuse his wife. She told the commission that one day Andriff's wife came over in tears after she had been abused. Walker said that Andriff's wife told her that she wanted to go to the police and to tell them what Andriff was planning to do with Khan.
Walker was asked by Bond if she knew Andriff's wife name since she was only referring to her as 'Andriff's wife', but she said no. "You living next to Andriff for two years and you never heard of him calling her name, you just address her Andriff's wife?" Bond questioned. "No…and to be honest I never call her by name…" Walker said. "So when she comes to you and she's emotional, do you tell her 'calm down Andriff's wife?" Bond animatedly questioned. "When she come the most I would tell her is calm down she get a son but she would call me `Diva'… to be honest I don't her name because I have better things to study" Walker expressed.
Police Station
Walker said she contacted the police about the alleged plot when the whole thing got "out of hand". She said she end up getting on to "this guy" who told her that he would get on to the police for her to give a statement. When asked by Bond which station she visited to make the statement, she replied "A station not too far from here (Waterloo Street) I saw the officer just now I do not know his name but he took the statement from me, I think is the same fella I saw on facebook standing reading my statement" Walker explained.
On  Commissioner  Paul Slowe's request for clarification as to which station she had gone to, Walker kept saying "not far from here". She said the taxi which brought her to town, passed the Brickdam police station and the Stabroek Market. She said that he (taxi driver) took her not too far from the immigration office, which she later confirmed to the Commissioner.
She said that when she reached Eve Leary she spoke to three persons, and the last person she spoke to took her statement. Walker said the police had asked her a series of questions, one of which inquired if she and Gillard had any problems. She said that she was unaware if Gillard had made any allegations against her to the police or her stepson. "So many questions the police ask me I cannot recall all of them", Walker told the commission.
Attorney on behalf of the Police Force Ian Chang,  questioned Walker on the authenticity of her statement. Walker told Chang that everything in her statement was the truth.
Chang then put to Walker that the police never put words in her mouth, to which Walker replied "No I don't have police friends… " while adding that  "I don't even think the man Andriff has a problem with knowing I'm here"
The commission of inquiry has indicated to the media and attorneys its plans to close off public hearings tomorrow after more testimony from Gillard and David Ramnarine, the Assistant Police Commissioner.
Around the Web