A year after an accident left her teenage son bedridden in a semi-vegetative state, Sharon Cosbert remains hopeful that he will one day be able to walk and talk again.
Until then, she plans to continue to fight to make ends meet, although it has become even harder with the knowledge that the man who caused her son to be reduced to such a state will only serve 12 months in jail for his actions.
Her son, Shamar Henry, 14, was one of two persons who had to be hospitalised with life changing injuries after a car, driven by Donald Downer, struck them down as they were proceeding along the Goed Fortuin Public Road.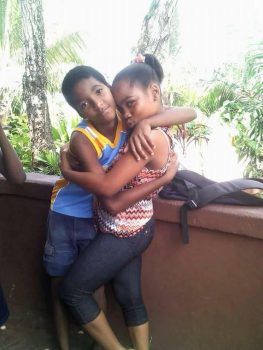 The accident, which occurred on May 29, 2016, saw Henry, of Lot 22 Goed Fortuin, West Bank Demerara, sustaining head injuries, including a fractured skull. He was rushed to the West Demerara Regional Hospital and later transferred to the Georgetown Public Hospital, where he spent several months before being discharged.
The other victim, 44-year-old Wazir Ali, was also hospitalised after his leg was crushed and doctors were forced to amputate it after three surgeries.
The accident occurred as Henry and two of his friends were proceeding north along the public road when PTT 1343, which was driven by Downer, struck him. He was flung into the air and fell into a yard. The vehicle then slammed into Ali, who was standing some distance away waiting to board a minibus.
Downer was taken into custody and placed on $50,000 station bail. He was subsequently charged with dangerous driving.
However, after more than a year in court, Downer was found guilty and was subsequently sentenced to 12 months in jail by Magistrate Clive Nurse.
Cosbert on Tuesday shared her disappointment with the sentence, while noting that she is now struggling to make ends meet to take care of her once jovial and active son. "I feel unjust because my son is still in a bad condition. He's not walking or talking. He's just there. He hasn't recovered yet. The guy only got 12 months for endangering two people's lives and it's like he rather go to jail for 12 months than offer some compensation for my child and the other man," the woman related. "I was hoping that he would compensate me, because I have already spent a lot of money on my son to bring him from what he was when he was in the hospital and I find it really hard right now," she added.
At present, Henry, the youngest of five children, cannot walk or talk and requires around the clock care and attention, thus making it difficult for Cosbert to maintain a job.
"I cannot work because I have to look him after… I tried selling to help out our situation but that didn't work out. And with all the fetching I have to do when it's time for him to go to the hospital for therapy, I end up with a pinched nerve," the woman related. "I have to find money to buy the things he need.  I collect $16,000 a month from his father in child support and $7,500 in public assistance for him but its $25,000 a month in pampers and another $9,000 a month for taxi to take him to physiotherapy and I still have to get things for him to eat. Sometimes I have to be borrowing money to survive… Some days, I don't even cook because he run out of pampers and I have to use the money to buy pampers. There are days when I have no money for pampers and I have to make napkins out of old t-shirts for him," she added.
As it relates to the chance of Henry's condition improving, his mother said that based on the advice she received from his doctors, she is hopeful that her son would one day be able to walk again. "I does pray for he, you know, and just hope that God could perform a miracle where I could go out and come back and see him sitting down in the chair or something," Cosbert added.
Therapy had helped him. However, she has not been able to facilitate this in over two months since she cannot afford the taxi fare from her home in Goed Fortuin to the West Demerara Regional Hospital, where he undergoes treatment.
In response to questions asked about approaching Downer for compensation, Cosbert said the man had approached her sometime last year after a court hearing and indicated his willingness to offer compensation. "We were at court and when it was over he stopped me and he said he wanted to compensate me. I said I don't have a problem with that and I gave him my number but he never called. I saw him in court after that but he never spoke to me again," the woman said. "It is really sad for me to see him like this because all the time he wasn't like this; he was very playful but now it's really hard to see him just lay down. I want to hear his voice but I can't. I have not heard his voice in over a year now," Cosbert added.
Anyone desirous of offering assistance to Shamar Henry can contact Cosbert on phone numbers 681-1404 and 253-3091.
Around the Web