A study has found that the aviation sector generates roughly $20.7 billion in local economic activity every year.
The US$50,000 study, conducted by the UK-based Oxford Economics Limited, also found that the aviation industry impacts several sectors, including trade, communication and the hotel industry and supports approximately 12,000 jobs.
Yesterday, Director-General of the Guyana Civil Aviation Authority (GCAA) Lt. Col. (Ret'd) Egbert Field told reporters at a press conference that the study, 'The Impact of Aviation on Guyana's Economy- A report for the Guyana Civil Aviation Authority,' would also be used as a baseline so that similar studies can be conducted.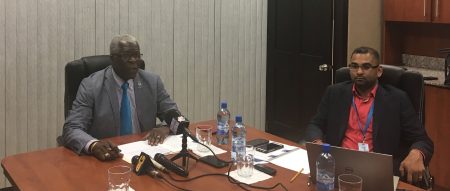 In response to questions about data available for the hinterland region, Field said that there was none since there was poor recording done by some of the operators. "We did get a few baseline data. We could not get the computer data out of the interior because records were not properly done. But we hope that by the next study we would have complete data from the interior locations," he said, while adding that the data supplied was sufficient for the study to be conducted.
Meanwhile, in underscoring the importance of the aviation sector, Director of Air Transport Management Saheed Sulaman told reporters that the impact of the industry is one that is felt both locally and on a global level. "Without air transport or air link, we would not be able to connect with the rest of the world and domestically without air transportation a great part of the hinterland region would not be connected to the coastland," he explained.
Touching on the indirect impact stemming from supply chains, Sulaman informed that those companies which invested in the airports would also benefit. "As a result of investing in the airport, GPL will benefit because they provide electricity, the telephone company will benefit because they provide communication.  So the indirect impacts are those supply chain services," he added.
Substantial
Meanwhile, the study revealed that while the economic impact of the aviation sector is substantial, it is mostly understated. In 2015, for instance, the annual economic activity in the sector accounted for some 3.2% of the country's US$3.179 billion gross domestic product.
The study also found that international air transport generates roughly $1.7 billion in travel tax revenue for the government.
It was further noted that the increase in international service to markets such as North America and Europe, would bring a substantial benefit to the country's economy. "There exists a unique opportunity in Guyana to leverage aviation's contribution. This opportunity arises because of the soon to be completed runway extension at Cheddi Jagan International Airport which will make possible, the accommodation of more and larger planes," the study stated.
Founded in 1981, the Oxford Economics Limited is one of the world's foremost independent global advisory firms and provides reports on a number of industrial sectors.
Around the Web