The Health and Education Relief Organization (H.E.R.O) medical team completed approximately 30 surgeries for patients with "club foot" and other lower extremity problems as opposed to the 45 surgeries that had been planned for their one-week medical outreach.
The Department of Public Information (DPI) said that this was revealed yesterday during a press briefing at Georgetown Public Hospital Corporation (GPHC) Resource Centre. The H.E.R.O team comprises surgeons, physicians, nurses, nurse practitioners, medical students and college students. Representa-tive of H.E.R.O, General/ Trauma surgeon, Dr. John Mitchell told DPI tht the number of surgeries completed was less than planned due to various reasons. However, he noted that the completion of the surgeries along with interaction with the patients and physicians, can be considered a major accomplishment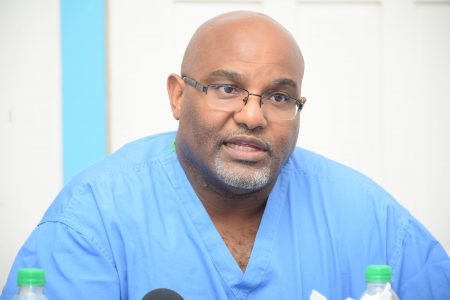 "We also did two dedicated sessions with the members of the transplant team among other teams so that they can incorporate that in terms of evaluating patients who need have arteriovenous fistulas (AVFs) dialysis," Dr. Mitchell said.
The organisation also hopes to commence a reconstructive surgery programme for women with breast cancer. Chairperson of the GPHC board Kesaundra Alves said that GPHC would welcome the reconstructive programme, whenever the team is ready.
The 40 plus H.E.R.O team members were split into five groups to focus on various areas during their stay, including the Linden team, who were tasked to handle basic medical outreaches. A team was sent to GPHC to operate on patients with "club foot", paediatric and other lower extremity problems.
Around the Web