East Canje, Berbice residents were left in shock yesterday after well-known businessman Rudolph Blair, the owner of the Stretch D Dollar franchise in the county, murdered his estranged wife and then committed suicide.
Rhonda Jackman-Blair, who was also known as 'Miss Rhonda,' 42, was fatally stabbed at their Lot 91 Coburgh Street, Cumberland Village, East Canje home, sometime before 12.05 am yesterday, when her body was discovered. Her husband, who was also known as 'Rudy,' 46, was eventually found dead around 8.44 am, after taking refuge in nearby bushes, from where he had engaged in a standoff with police for hours.
A family friend said that the man had previously threatened to kill both the woman and himself as he had blamed her for the financial troubles that had beset the business that they had built together.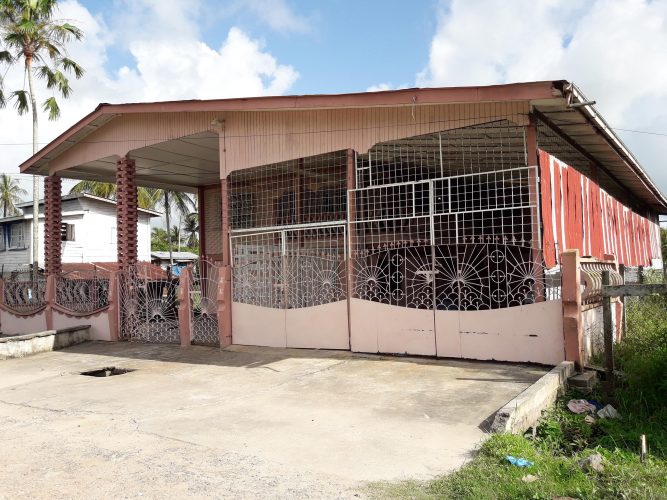 An autopsy that was done yesterday found that Jackman-Blair died as a result of shock and hemorrhage due to multiple stab wounds.
A police source told that Stabroek News that a son found the woman at an entrance to their yard drenched in blood with two stab wounds; one to the left side of the chest and another to the right side of her neck. Police were then immediately summoned to scene.
Stabroek News was told that upon the arrival of the police, Blair, who was hiding in bushes a short distance away, discharged a shot at them. He was a licensed firearm holder.
Relatives then took it upon themselves to plead with Blair to surrender to the police. Blair, this publication was told, began shouting for his older sister, who was standing on the road. "He asking for see the sister. Them police bring she in—she sickly—she tell he let he put down he gun and turn he self over, that them police nah go shoot he, she there, but he kept saying no," a relative recounted.
"He calling for he children them names and calling for he relatives, but he hold out that he nah go turn he self in," the relative added.
It was then that relatives of the man said they heard another round discharged. Blair's body was discovered with two gunshot wounds; one to the left ear and one to the left side of his chest.
His relatives recalled that from the time they heard the second shot, his voice began "fading" and their calls to him went unanswered. Police then decided to move in closer to where Blair was hiding and found him lying lifeless in the bushes.
A police source told Stabroek News that the man's .32 Taurus revolver was found in one of his hands, while six live rounds and one spent shell were found next to his body.
At that point, all sides of the cordoned off area were crowded by residents. As news broke that the man was found dead, his relatives, neighbours and other persons who had gathered began screaming in disbelief. "Why he had to kill she and then kill he self!" a neighbour shouted.
The son, relatives said, was still in a state of shock and disbelief and left before his father's body was brought out of the yard. When police removed the body, Blair's sisters, who were present, began crying uncontrollably.
Financial strains
About two months ago, Jackman-Blair had left her husband and moved into a friend's house at Ithaca, West Coast Berbice. However, on Thursday, she went to New Amsterdam to purchase some items and visited the Stretch D Dollar Supermarket at Pitt Street, where she met her husband.
According to information gathered, he requested that she accompany him to pick up some goods for the store. She subsequently entered his car and around 3.30 pm in the afternoon, they travelled to their Cumberland house. The man had rented the bottom of his house to a woman, who operates a shop there. "He come and normally he does wind down the car window right down. He wind it a lil piece, I could barely see anything, and he tell me GRA coming, let me close up the shop and go home and then he drive off," the woman said yesterday, before adding that as she was leaving the premises close to 5 pm, she saw the car returning through the street. She assumed that the woman was also in the car at that time.
An extremely close family friend, who asked not to be named, told Stabroek News that due to the financial strains of their businesses, the couple argued and fought often. It was noted that the man had also started drinking often.
The family friend recalled that on Sunday, Blair, who was living alone in the Cumberland house, brought his gun out and told persons who were present that he was going to "kill Rhonda and kill himself." However, the friend said the man would often threaten to kill his estranged wife and commit suicide but his friends would speak to him and encourage him not to let anger determine what he does.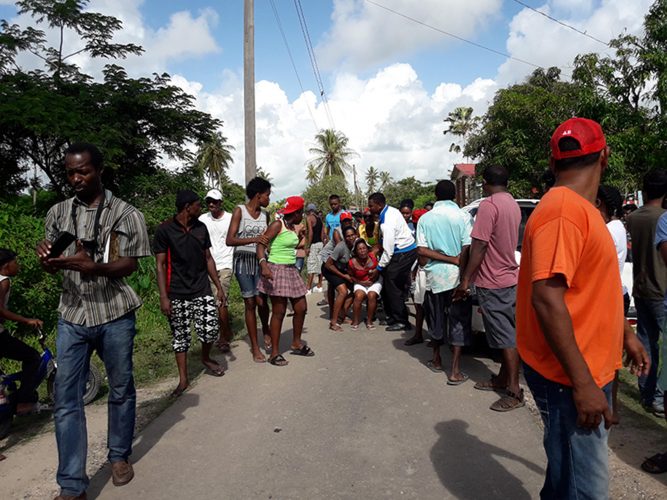 The friend also related that last Thursday, she had bought a weedicide and she noticed Blair taking some of poison, putting it into a separate container and taking it to the back of the yard. "Then he bring down he gun and sit on the step and talking how he want kick she (Rhonda) from the step till to the fence, how she put he in all this worries, how he tell she let them sell the Pitt Street business and them can pay off them debts but she nah want sell nothing," the family friend related.
When Stabroek News visited the Cumberland house yesterday afternoon, several empty beer bottles were seen scattered throughout the yard, including two that were found directly next to where the woman's body was discovered.
Happier times
In happier times, they husband and wife were always spotted together as they worked hand in hand to build their businesses. They had two children together; ages twenty-one and eight. They were also the grandparents to one child.
Relatives told Stabroek News that they had fallen in love during their teenage years. His cousin, Karen Blair, stated that he was always helpful to his relatives. They also spoke highly of Rhonda, whom they said always showed them "a nice face."
Blair started his career working at sea, one relative said. The couple then began selling together at the then Cumberland Market, after which they opened a grocery store on the lower flat of their house. As that business blossomed, they then opened one of the largest grocery stores in Pitt Street, New Amsterdam and subsequently opened another store at Rosignol, West Coast Berbice.
The couple was said to have always been kind to residents of Canje and donated to many non-profit programmes when their businesses were thriving.
However, several years later, the couple's businesses began spiraling and at one point they had to file for bankruptcy. The couple had experienced many financial difficulties, which led to them closing down the Rosignol location and the business under their Cumberland house. Shortly after, Rudolph Blair began working as a taxi driver on the Canje Road.
Jackman-Blair, who was a retired teacher, was fondly remembered as being strict about education. Persons said she always wanted what was best for her students and her family. One of her past students at Cumberland Primary School told this publication that during the woman's teaching years, she would make food and other items, which she sold at school. He noted that she always wanted to own and run a business.
Around the Web