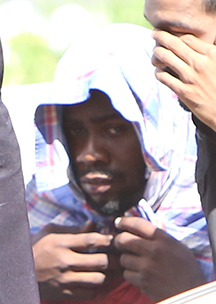 Samuel Adams, the taxi driver who was charged with attempting to kill a BK International supervisor who was shot outside the compound of the Ministry of Finance last December, had the charge withdrawn yesterday.
However, Adams, 29, of Lot 9 Dennis Street, Sophia, was not let off the hook for the attack as a lesser charge of wounding was read against him.
He was originally charged in March with shooting at John Brian with the intent to commit murder at Urquhart Street on December 5, 2016.
However, when the matter was called in the courtroom of city magistrate Leron Daly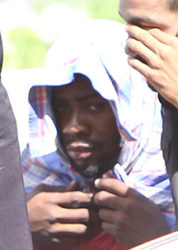 yesterday, police prosecutor Vishnu Hunt requested that the charge be withdrawn and the new charge of wounding be read. The new charge states that Adams unlawfully and maliciously wounded Brian, with intent to maim, disfigure, disable or cause grievous bodily harm at Urquhart Street on December 5, 2016.
Adams denied the allegation.
He was later granted his release on $200,000 bail.
In a press release, the Guyana Police Force had said that Brian was walking on Urquhart Street, heading in a western direction when two bandits, one of whom was armed with a handgun, exited a white car and approached him. Brian, the police said, became afraid and ran to the Ministry of Finance's gate, where he threw a haversack, which was reported to contain $3 million in cash, into the compound. "The suspects went into the compound, collected the bag and were exiting when the victim tried retrieving same and in the process, the armed suspect discharged his firearm in his direction, hitting him to his right thigh," the release said.
As a result, Adams was charged with both attempted murder and armed robbery.
Adams was also charged with discharging a loaded firearm at Christopher Marks on February 3 at Mandela Avenue, with the intent to commit murder. It was also alleged that on the same date and at the same location, in the company of others and armed with a gun, he attempted to rob Ramroop Ramnauth of cash in his possession at the time.
He is being represented by attorney Dexter Todd.
Around the Web