The body of a man in an advanced state of decomposition was discovered yesterday morning at Mibicuri, Black Bush Polder.
The body was found around 6 am by a rice farmer, who noticed it floating in the irrigation canal between the rice fields. The farmer immediately alerted residents and the police.
Although police arrived at the scene around 7 am, they were only able to retrieve the corpse and remove it from the area until around 4 pm as they experienced difficulties sourcing a tractor for the operation.
When the body was recovered, it was observed that parts of the man's face and hands appeared to have been eaten away by fish. The man had been clad in brown pants and a green shirt.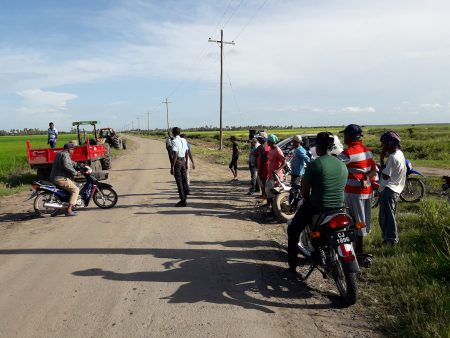 Residents of the various polders in Black Bush had flocked to view the body in order to offer assistance in identifying the man. However, up to press time last evening, they were unsuccessful.
Residents were also heard saying that there were no reports of missing persons in the area.
The body was transported to the Port Mourant Hospital's mortuary, since a funeral parlour in Rose Hall refused to keep the body due to its decomposition.
Around the Web