Once the sole bread winner for his family, 45-year-old Wasir Ali is now left to depend on his wife to take care of him after a life-changing accident cost him his left leg.
Ali was one of two persons who had been seriously injured last May after a vehicle driven by Donald Downer crashed into him and 14-year-old Shamar Henry as they proceeded along the Goed Fortuin Public Road.
As reported by this newspaper, the accident had occurred as Henry and two of his friends were proceeding north along the public road when PTT 1343, which was driven by Downer, struck him. He was flung into the air and fell into a yard. The vehicle then slammed into Ali, who was standing some distance away waiting to board a minibus.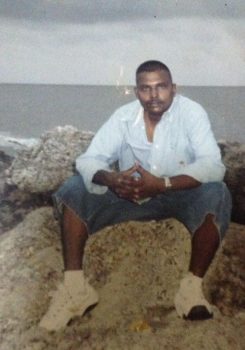 Henry, having sustained head injuries, including a fractured skull was rushed to the West Demerara Regional Hospital and later transferred to the Georgetown Public Hospital, where he spent several months before being discharged.
Ali on the other hand had suffered a crushed leg and doctors were forced to amputate it after three surgeries.
On Thursday, Stabroek News had highlighted the plight of Henry's mother, Sharon Cosbert who spoke of the challenges she now faces in looking after her son who is now bedridden as a result of the injuries suffered in the accident, while the man who was responsible for the accident was only sentenced to 12 months in jail.
Like Cosbert,  Ali's life has undergone a complete change as the family's primary bread winner is now forced to depend on others in order to carry out tasks that others may take for granted.
In addition to this, the family, which had comprised Ali and his wife, two children from Ali's previous relationship as well as Ali's mother has since been split up; Ali and his wife, Gaitree moving from their home in Industry on the East Coast Demerara to one in Tuschen on the East Bank of Essequibo while the children, ages 13 and 11 are now living with another relative.   "He was a driver for a Canadian company before the accident and he used to take care of all of us but since the accident happened we have all been separated… We were renting a house in Industry when the accident happened and then the people asked for their place back because they probably say we won't have money to pay the rent," Gaitree said.
"Since the accident I have to work to look after him…I am a cleaner with a company in Ogle and I get paid $40,000 month and it is really hard on me personally because I have to leave home at 4 in the morning to get to work on time and I have no time for myself because by time I get home I try to do everything to make him comfortable," his wife added.
Financially speaking, Gaitree said in the early stages, the little she makes was not enough to cover the expenses that accompany the use of taxis to and from the clinic for the dressing for his leg which was amputated.
"We had a lot of challenges because since I take him to the doctor regularly, sometimes we have to be taking taxi at least three times a day and I still had to find money to pay someone else to take him when I had to work," Gaitree related.
In the meantime, the woman stated that they have been exploring the possibility of having him fitted with a prosthetic leg but was told that he would first have to undergo a period of physiotherapy before he can be approved for one.
"And in spite of all of this, the man who caused the accident never came once and see how he was doing; my husband was in the hospital for five weeks and three days and not once did the driver come and check and see if he's okay or see to offer some help," she added.
Asked to comment on the sentence handed to the man who caused the accident, Gaitree said she does not feel it was enough since it was an accident that changed the lives of two persons forever.
"To be honest I don't think it is fair because is two of them he knock down and look now they are both disabled for the rest of their lives," she added.
Depressed
While the lack of finances proves to be a major problem for the couple there is another that worries Gaitree almost every time she leaves her husband home alone and that is his depression.
According to the woman, since the accident and losing his leg, it would seem that Wasir has begun suffering from depression.
"He has been crying and stressing a lot since the accident, saying things like is best he bin go the same time because he's punishing and I punishing along with him.
It really take a toll on him; he doesn't even like seeing his kids anymore because every time he sees them or talks to them he cries," Gaitree shared.
Despite all the hardship, the woman said she continues to keep the faith that their situation will get better before moving to thank her employers for the support they have shown her since the accident.
Around the Web