A second police constable yesterday testified that Assistant Superintendent of Police (ASP) Frank Thompson did use abusive language to a junior rank who was investigating his involvement in a vehicular accident.
Thompson, of 154 Stewartville, West Coast Demerara, is on trial for allegedly using abusive language to Police Con-stable Leandre Gillis on February 22, at Broad Street, Georgetown.
Gillis testified last week that he received a threat to his life during the encounter, which had been recorded and widely shared on social media.
When the trial continued before Magistrate Fabayo Azore yesterday in Georgetown, Police Constable 23613 Nicholas Ingram, who is stationed in the Court Superintendent's Office, was called as a state witness.
Ingram stated that on February 22, at about 1.55 pm, he was in police car PRR 2147, in the company of constable Gillis and Woman Constable Fredericks when they were flagged down by a man, who informed them of an accident. He further stated that the man told them that the person who hit him was behaving in an unapproachable manner.
According to Ingram, he and Gillis exited their vehicle and went to the driver, whom he identified as Thompson. While Gillis spoke with the accused, Ingram stated that he went back to the police vehicle and made contact with the operations room at Brickdam and informed them of the incident.
He added that upon his return, he heard Gillis asking the accused for some form of identification. According to the witness, the accused said, "I don't have no f****** ID" and then went back to his vehicle.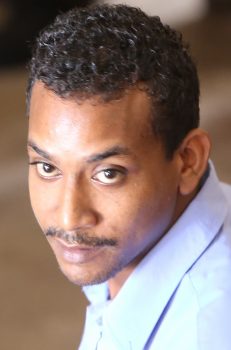 This, according to Ingram, prompted Gillis to tap on the bonnet of the defendant's car and ask for his driver's licence. As Gillis was writing the information from Thompson's licence, Ingram noted that the accused said, "Yo! Yo! Ya done?" He added that Gillis then asked the accused, "If I stopped you and said, 'Yo! Yo! Pull in the corner!' Would you stop?"
Ingram noted that Thompson then began to point his hand in the face of Gillis, who requested that he not do so. Thompson, according to Ingram, began to curse. Ingram then stated that he went back to the police car to make contact once more with the operations room at Brickdam to inform them of the incident. When he returned, he noted, he heard the defendant saying to Gillis, "Yo! Yo! You know who is me? You know me? Bai I'd kill ya muda s**** right hay. I would murder y'all and drop ya down right hay. If I had my way you wouldn't ah join this police wuk."
Ingram added that the accused continued by stating, "Yo! You eva shoot anybody? Call Brickdam! Call TSU! Ask them 'bout ASP Thompson!"
It was then, according to Ingram, that Gillis instructed both drivers to go to Brickdam and the defendant instead sped off on D'Urban into George Street, where he nearly avoided another accident.
Ingram said they later went to the Brickdam Police Station's traffic department, where he informed his supervising officer of the incident.
Ingram was then subjected to cross-examination by attorney Dexter Todd, who represents the accused.
Meanwhile, earlier at the hearing, Gillis was further cross-examined by Todd, who suggested that he had a personal interest in seeing Thompson dismissed from the force. Gillis said the statement was untrue. Additionally, Todd suggested that the events Gillis spoke of never happened but Gillis maintained that they did.
The trial was adjourned until September 21, when Ingram is to be further cross-examined.
Around the Web