The twin-engine Beechcraft seized by authorities on an improvised airstrip on Sunday in the North Rupununi, Region Nine area, was yesterday confirmed as bearing a registration number belonging to an investment company in Brazil.
On Monday, the Guyana Police Force (GPF) reported the seizure, which followed almost a month of reports of a foreign aircraft frequenting the Santa Fe, North Rupununi area.
The Guyana Civil Aviation Authority (GCAA) was subsequently notified and formed part of a multi-agency team comprising of the Guyana Defence Force (GDF), the GPF's Criminal Investigation Department and other related agencies that was to be flown to that area to conduct further investigations.
Contacted for an update yesterday, GCAA Director General Lt Col (Ret'd) Egbert Field told Stabroek News that based on information he would have received from Brazilian authorities, the aircraft is owned by a bank in Brazil.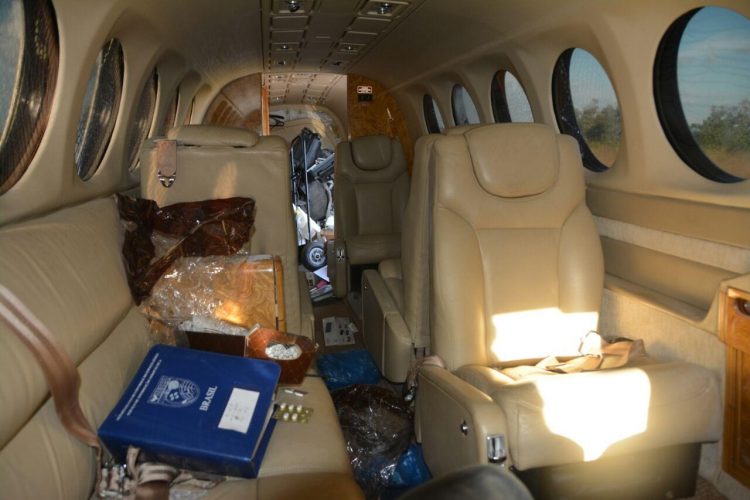 "It doesn't necessarily mean they operate it. Like banks do, I guess, they would have a mortgage on the airplane. As much as they own it, I don't think they are the operators," he asserted.
"Tomorrow [today], I will do some investigating into who might be the operator. I have an idea but I need to confirm who the operator is from Brazil. I have the information. We were in contact with our counterparts in Brazil. They were able to furnish us with the necessary information. We would have to go further in looking to find the owner," he added.
Sources say that the aircraft bears a semblance to a plane bearing registration number, PR-IMG that is owned by Riwa S.A. Incor-poracoes, Investimentos e Participacoes, a Brazilian company on lease from Banco Bradesco. Banco Bradesco is one of the biggest banking and financial companies in Brazil.
Additionally, this newspaper has been told that Paulo Roberto Moraes is a partner of the Riwa group, which is responsible for the construction companies Zadar and Engetecnica.
Only last week, after a decade of good business, the companies requested a judicial recovery and are said to be under investigation by the Public Prosecution Service in Brazil.
State prosecutors in that country had said that the probe of the two companies was sparked by press reports that the companies were contracted by the government to finish construction on the 121 million-Real Rio de Janeiro Olympic velodrome and equestrian venues without a public bidding process following the dismissal of the original builders for failing to deliver the work on time.
Meanwhile, Field said that the aircraft is in a serviceable condition, with only the propeller sustaining damage. "The propeller was slightly damaged and we identified that it got damaged while the aircraft was landing. It hit a little mound of dirt. Engineers did checks and they are satisfied that the damage is not outside of the limits and they are prepared to bring it out," he explained.
Field added that while he is unsure of the exact location of the improvised airstrip, since it is not registered on the GCAA's charts, it is located a short distance from the Yupukari airstrip, where an aircraft was found last September. To date, no arrests have been made into that discovery.
"It was ploughed up like somebody went in and did some levelling work on it. When my team investigated, they said a truck came and removed the bobcat that was used to do the work on the airstrip. It is all a mystery at least up to now," he noted.
A quantity of dry rations, medical supplies, gents clothing and footwear, two hand-held radios, flashlights, cellular phones and an identification card were among the items found on the aircraft.
Additionally, only last week a Guyana Defence Force reconnaissance detail found an illegal airstrip at Santa Fe. The army had reported that the airstrip was located some five miles west of the Santa Fe mega farm. No arrests have been made in that discovery.
Meanwhile, Minister of State Joseph Harmon in a statement on Monday had said that the government expects a full investigation into the discovery of the aircraft and airstrip.
"The government is extremely concerned. We are concerned that these aircrafts are utilizing our large gaps in the security coverage in the hinterland areas, but we are looking carefully to see how we can have a proper coverage of those areas," he said.
Around the Web