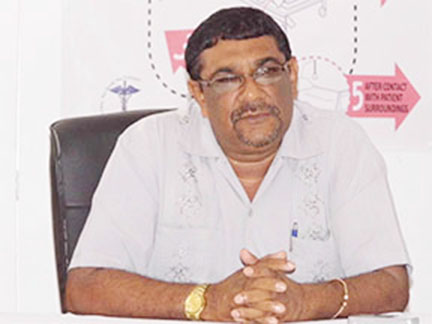 Region Six is proposing a total allocation of $7.1 billion for its 2018 budget, representing an increase of one billion over the sum approved last year, according to Regional Chairman David Armogan.
Armogan told reporters at his office in New Amsterdam on Monday that the proposed increase is primarily due to the fact that much more work needs to be completed in the region.
He referred to the government's electoral promise of "a good life for all Guyanese" and he said he is hoping that at least 80% of the budget will be approved when presented in order to ensure that "the good life continues" in the region.
The proposed budget, which was presented to the Regional Democratic Council last week, comprises $896 million in capital expenditure and $6.2 billion in current expenditure, compared with $513 million and $5.5 billion in capital and current expenditure, respectively, approved last year.
In giving a breakdown of some of the expenditure, Armogan said the region is requesting $17 million for public buildings and administration; $133 million for drainage and irrigation; $38 million for rehabilitation of agricultural dams and other structures; $61 million for public works, which includes the construction of bridges; $173 million for the rehabilitation of roads; $29 million for infrastructure development; $96 million for the education sector, which includes the repair of school buildings etc; $82 million for purchasing furniture for schools; $127 million for construction of buildings in the health sector; and $114 for purchasing equipment.
Armogan also said salaries for persons working within the region, such as teachers and health workers, make up a major part of the current expenditure. "The sum look big but nearly half of this money is going into wages and salary because we got to pay teachers and health people and other persons within the region," he said.
According to Armogan, the proposed budget was compiled after consultations were done throughout the region with all the Neighbourhood Democratic Councils and all other relevant agencies "to ensure that they make suggestions as to what they would like to see happen in their respective areas, and what we have done is incorporate those submissions into the regional budget."
He added that the proposal is a "reflection of the desire of the people within the region" though he admitted that not all suggestions could have been included. "So many things have to be done but then we have to prioritise and make it reasonable because it has to do with limitations of monies and finances and so on," he said.
Around the Web