Residents of New Road, Vreed-en-Hoop, West Coast Demerara, are concerned over live wires that have been left exposed at the side of the road after recent road works.
Stabroek News was told that the hole, which is situated in front of the Frontline Taxi Service at Lot 24 New Road, Vreed-en-Hoop, West Coast Demerara, has several exposed live wires.
Although the hole has been there since July 8 after construction works on the road were completed, there is no sign or cordon to warn anyone, leaving unsuspecting residents facing the risk of being electrocuted at the worst.
All of the street lights in the area have also been out of operation as a result of the issue.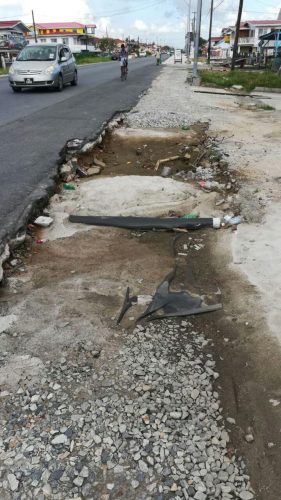 According to one resident, who asked not to be named, complaints have been made to both the construction company as well as the Guyana Power and Light Inc (GPL) but nothing has been done as both companies claim they are not responsible for the situation.
"It's been left like this since 8th of July with no  kind of tapes or anything there to indicate that there is a hole with livewires exposed… vehicles have to avoid this dangerous hole to park and all the street lights have been off due to this incident⁠⁠⁠⁠. Look, just a few days ago someone's pet dog died from the wires and a child could have died too if I didn't tell him to don't play there," the man said.
"It was reported to the construction people and they did nothing… someone spoke to an engineer on the work site about it and contact was made with GPL about this matter but they said that it's not their problem, its Cummings Electrical and they are responsible for all the street lights. The persons also spoke to a GPL employee about the danger of this hole and the exposed wires. He later came and cut the wires, which started a small fire, but it was dealt with, before taping up the ends of the wire," the man added.
Attempts to contact Cummings Electrical for a comment on the issue were unsuccessful.
Around the Web