Ranks of the Joint Services yesterday morning conducted a search in the brick prison on Camp Street during which a quantity of contraband items and twenty improvised weapons were unearthed.
Acting Director of Prisons Gladwin Samuels yesterday afternoon confirmed the raid which was conducted between 6.15am and 8.40am yesterday.
Stabroek News understands that a joint operation was carried out where the entire brick prison was searched and a small portion of cannabis, three cell phones, three SIM cards, four lighters, three razor blades and twenty improvised weapons were found.
An investigation has been launch-ed.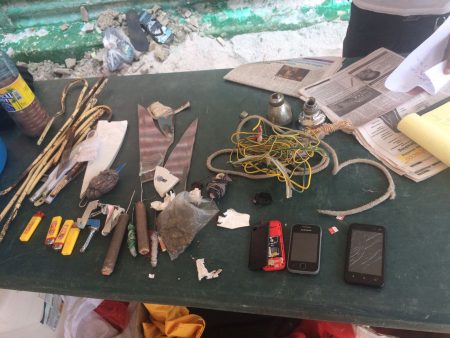 This discovery came less than two weeks after a quantity of contraband including improvised weapons, mobile phones and marijuana was uncovered at the Timehri and New Amsterdam prisons and the new holding area outside the Lusignan Prison.
Samuels had said during these raids, the lives of his officers were threatened.
The prisons system has been wracked by unrest for more than a month.
Around the Web