The twin-engine Beech-craft linked to a Brazilian company that was seized by police on an improvised airstrip on Sunday in the North Rupununi, Region Nine area was in the process of being sold to another company, although neither company has reported the aircraft as being stolen.
Sources had said that the plane, bearing registration number, PR-IMG was linked to Riwa S.A Incor-poracoes, Investimentos e Participacoes, a Brazilian company, on lease from Banco Bradesco. Bradesco, is one of the biggest banking and financial companies in Brazil.
Director General of the Guyana Civil Aviation Authority (GCA) Lt Col (Ret'd) Egbert Field told this newspaper yesterday that while the bank "owns the aircraft, it has been leased to the Riwa company who is now in the process of selling the plane. I don't think an official transfer was made because of some challenge." The company is said to be Sinalizacao MT Ltda ME, another Brazilian company.
On Monday, the Guyana Police Force reported the seizure of the twin-engine Beechcraft, which followed almost a month of reports of a foreign aircraft frequenting the Santa Fe, North Rupununi area.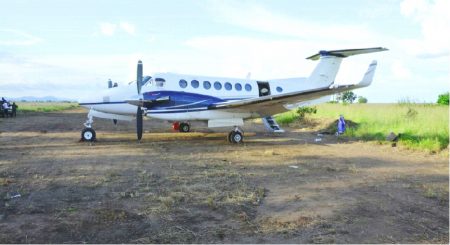 It was also reported that three men were seen fleeing the aircraft. However, there has still been no word from the security forces, the Guyana Police Force and the Guyana Defence Force on whether any one has been detained, despite the fact that the foreign plane landed in Guyana without clearance from the relevant authorities, posing a major security issue for the country.
Field noted that while the regulatory body is not in contact with either of the companies, contact has been made with authorities in both Brazil and the United States. He added that, "we haven't gotten any information about it being stolen. Neither from the FAA nor the Brazilian authorities that the aircraft was reported stolen."
Efforts, he said, are being made to bring the aircraft out of the area today. "All checks will be made and the aircraft will then be flown out of the area. Right now safety is paramount. We will undertake all the necessary inspection before the airplane is taken to the airport."
Once brought out of the area, the Director General said that the aircraft will be handed over to the security forces. "It is a security matter. It is not a civil aviation authority matter even though we would advise. It is an illegal operation for the aircraft in that it did not report coming into our airspace, landing on an illegal airstrip that we the authorities who are the persons would register the airstrip don't even know about the airstrip. It isn't in our registry," he noted.
According to the police, a quantity of dry rations, medical supplies, gents clothing and footwear, two hand-held radios, flashlights, cellular phones and an identification card were among the items found on the aircraft.
Around the Web