Guyana's National Development Strategy (NDS), which was crafted almost two decades ago to chart the course for social and economic development, can serve as the basis for prioritising the use of expected oil revenues, according to British High Commissioner Greg Quinn.
During a "Meet the Press Day" at his official residence yesterday, Quinn told reporters that his government is interested in helping to update the NDS, but noted that the decision ultimately lies with the government.
The NDS was completed under the then PPP/C government and was a product of contributions by a wide cross-section of organisations, including the private sector, government and non-government agencies, and the University of Guyana.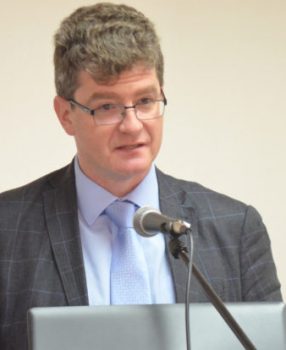 Quinn said the need for a proper plan for the spending of oil revenues has been acknowledged and the NDS can provide the "basis or skeleton on which to move forward." He, however, noted that the question of what should form the basis to start work on developing such a strategy—whether it is starting from scratch or building on what exists—is for the government. "That's not a question for us to answer but certainly there is an interest on our side to help put the strategy in place," he said, before adding that "The offer is there to help develop a strategy…but the starting point…is for the government to tell us and I know it is something which they are considering."
Guyana is expected to receive revenue from the first day of local oil production, which is expected to commence in 2020.
The country's agreement with ExxonMobil, which was signed by the People's Progressive Party/Civic government in 1999 and catered for a subsumed 1% per barrel-of-oil royalty, was changed by the David Granger administration and will now take a hybrid format, where royalties of 2% per barrel will feature.
Asked for his assessment of Guyana's preparation for the oil sector, Quinn said that the focus should be on ensuring that there is movement to pass legislation for the Petroleum Commission and the Sovereign Wealth Fund. "…That really needs to be resolved as soon as possible… I think there is an urgency around the legislation to make sure that Guyana as a government is able to oversee and manage what is coming down the line… and I think they understand that and they need to do that," he said, while adding that there is also need for consultation with a wide range of stakeholders in the new sector.
Quinn told reporters that it is expected that the government would be transparent with the public when it comes to the happenings in the oil and gas sector. "Governments should be as transparent with their publics as far as possible across a whole range of issues. There are issues where there will always be restrictions but those should be kept to the absolute minimum but the fundamental goal of any government …should be transparency as much as possible," he stressed.
'Through the roof'
Meanwhile, Quinn also revealed that there has been a spike in interest in Guyana by British companies since the discovery of oil here. "The interest in UK companies has gone through the roof. We are now at a stage where we are seeing new companies coming out here every week…there was one this week and we have another one coming in next week and a lot of these are like service companies…and then you have the ones who have been here for a while," he said.
Quinn informed that the companies have also become interested in "lots of [other] sectors" in Guyana. He said that once oil production begins and people get more disposable income, there are other areas where there are a potentially better markets for businesses.
ExxonMobil made its first announcement of a major oil find in the Stabroek Block in 2015. Subsequent discoveries were made.
Extraction from the Liza field is expected to commence in 2020 at an initial rate of 120,000 barrels of crude per day in the first phase, with a Floating Production Storage and Offloading vessel providing the main infrastructural support for the project.
ExxonMobil itself has said that the offshore pumping of oil, expected to begin by 2020, would not generate a large number of direct jobs for Guyanese on its end.
The company has already submitted to government its plans for the Liza 1 field, scheduled to last for at least 30 years, and mapped out a systematic plan of its proposed offshore subsea systems, drilling, floating production operations and vessels to be used among other details.
Around the Web