Eighteen prisoners at the Lusignan penitentiary were being treated for injuries last night following a reported attempt to kill a fellow inmate during which warders fired shots.
Five of the eighteen prisoners were transported to the Georgetown Public Hospital (GPH) for medical attention as serious injuries were sustained. The five being treated at the GPH are Linden Lewis, Abdul Akeem, Anthony Joseph, Travis Sobers and Adrian Edwards.
Those treated at the Lusignan prison medical centre are Calvin George, Saddash Singh, Nick Skeete, Suresh Ganesh, Omar Williams, Lendroy Stephens, Kevin Cumberbatch, Ajit Jittall, Ryan Gopaul, Anthony Persaud Ryan Banister and Jayishwar Dhanai.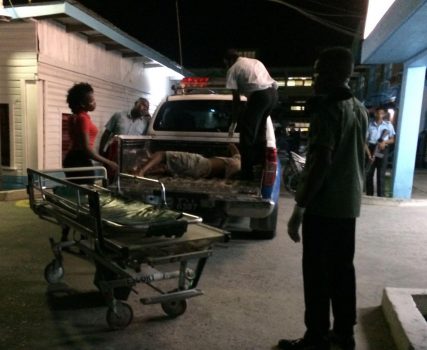 Director of Prisons Gladwin Samuels last night confirmed the ruckus at the prison. It was the latest eruption of violence in the prison system and at the Lusignan jail. The prisoners involved were those relocated from the Camp Street jail after the July 9th blaze that destroyed it. Prison officials had erected more secure facilities for them after 13 had escaped from a pasture on July 24.
Imran Khan, Director of Public Information, stated last night that several prisoners who were housed in Holding Bay 2 scaled a fence and entered Holding Bay 1 with the "intention of killing a fellow prisoner who they apparently consider to be an informant to prison authorities."
As the prison authorities became aware of the situation, shots were fired to restore order. However, the
authorities said no prisoner was injured by the shots fired.
The injuries sustained by the inmates resulted from the razor wire fences, which the prisoners were in the process of scaling. Razor wire fences separate the holding areas.
The targeted prisoner was unharmed and has been placed in the main Lusignan Prison. Prison authorities are said to be back in control of the situation.
On July 29, 16 prisoners were shot with pellets and rubber bullets at the same facility where the unrest occurred last night. They had apparently been making another attempt to break out.
Around the Web