"I just want to be able to walk again," says Jesse Gibbs. Three years after being involved in an accident in which his left leg  was badly damaged, Gibbs, 28, appears to be giving up his hopes of having a normal life, including being able to provide for both himself and his children.
Gibbs, a former security officer at a private company, was one of two persons injured on April 20, 2014, when the motorcycle they were riding collided with a car at Little Diamond, East Bank Demerara.
Since the accident, Gibbs said he has undergone a total of 15 surgeries to repair his leg but he is still in constant discomfort as he is now forced to use crutches to walk. The injury suffered, as he explained it, was an open fracture to his left femur that has left his leg "hanging off" the rest of his body. "I did four bone transport, one blood fusion, changed an external fixator, put in interlocking nail in my foot which end up becoming septic and a lot of more things but still nothing," the man shared. "The doctor keep telling me that there is nothing else he could do for me but I cannot live like this man. I asked him to give me a medical document, a referral or something, so that I could go overseas and get more advanced surgery but he hasn't told me anything," he added.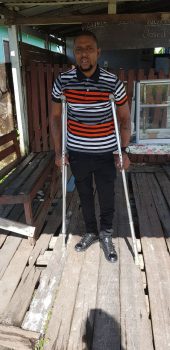 In his first interview with Stabroek News from his hospital bed in 2014, Gibbs had said that he was riding down to town to attend a concert at about     1 am. "I was riding a bike and he was driving a car…. I see him coming and he blinked his light and I blinked back," Gibbs recounted, before adding that he then "geared his bike down" in an attempt to ascertain what the driver was attempting to do. He said that because he had the right of way, he only slowed down but did not stop because "the man was supposed to wait on me."
However, when attempting to cross at an intersection, Gibbs asserted that taxi driver, identified as Yudarine Ramrup, of Prospect, East Bank Demerara, then attempted to make a last minute turn.
It was at this point that the front of Gibbs' bike smashed into the car, pitching the bike forward with Gibbs and pillion Marino Matthias. Gibbs skidded along the road with his bike, sustaining several scrapes and bruises in addition to his mangled leg. Matthias, who was unseated in the collision, ended up underneath the car, left to the mercy of the taxi driver, whom he said kept revving his engine in an attempt to escape the scene.
Afterward, Gibbs said he was confined to bed for eight months and it took an additional four months before he was able to walk again using the crutches.
'Took advantage'
In the wake of the accident, Gibbs said he felt as though he was cheated out of justice since he claims he was pressured to settle the matter out of court. According to him, he was approached by a police officer assigned to the case and he was persuaded to accept a settlement of $200,000 from the driver as opposed to taking the matter to court. He said he was also told that the driver was too poor to offer anything else.
It was a decision that Gibbs said he eventually made since he was forced to consider the wellbeing of both his young children as well as the need to repay a loan he had taken from a bank. He added that all the while he was being told by the officer that taking the matter to court would mean him walking out with nothing.
"I felt as though the police officer and the driver took advantage of me because I couldn't afford a lawyer, I didn't know my rights and I was thinking about my children and the loan I took from the bank," he related.
In the time that has passed, Gibbs stated that he attempted to live on his own but had to move in back with his mother because he could not afford the rent as his only source of money currently is what he receives as public assistance.
Having mentioned all of this, Gibbs said his only wish now is being granted the opportunity to seek medical attention overseas with the hope of one day being able to walk without his crutches again. "I am tired of living life like this. I cannot work because nobody will hire me like this. That man changed my life that night and now I cannot support my kids, I cannot support myself; right now what I'm going through is a real struggle," he said.
Around the Web