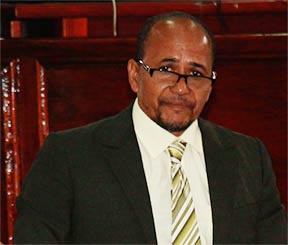 With growing pressure on the government over the overcrowding of jails, MP Michael Carrington is confident that the parliamentary bill in his name to ease penalties on marijuana use will gain the support of the governing APNU+AFC benches of which he is a member.
The Narcotics Drug and Psychotropic Substances (Control) (Amendment) Bill had been tabled in December 2015  in Carrington's name but has not been considered since the main component of the governing coalition, A Partnership for National Unity (APNU), apparently had difficulties with it. Carrington represents the AFC wing of the coalition.
The bill seeks to soften penalties for possession of small amounts of marijuana.
For years, the prison system has been clogged up with persons remanded or jailed for being in possession of small amounts of marijuana and the problem reached a crescendo in July when the overcrowded Camp Street jail was burnt to the ground during a prison break. The jail held over 1,000 prisoners at the time when its  capacity was around 600. The overcrowding of the jails has fuelled dissent and led to various protests over the years, including one last year where 17 prisoners died in a fire at the Camp Street prison. The various prison breaks and revolts by prisoners since July has piled pressure on the government to do something about the current marijuana laws which have been described as draconian and prescribe jail terms for small amounts of ganja.
Speaking to the Sunday Stabroek, Carrington was adamant that the court system is acting in bad faith and instead of helping offenders, they are being ruined. He said that addressing this issue is two-fold – rehabilitation services for those caught with small amounts and the identification of the sellers.
"I do not believe that a person should be jailed for three years for a joint, taking that person away from their family, costing the state $1.2M for that three-year period. I don't believe that we should be jailing our young people especially for smoking. I think the people really supposed to jailed are the traffickers (sellers)", he said.
Under Guyana's Narcotic Drugs and Psychotropic Substances (Control) Act of 1988, possession of 15 grammes and over of cannabis attracts a charge of possession of narcotics for the purpose of trafficking. Any person summarily convicted with that offence is liable to a sentence of at least three years but no more than five years in prison and a fine of at least $30,000 or the equivalent of three times the street value of the drug.
Carrington repeatedly questioned why it is that those selling the marijuana are not caught and prosecuted to send a strong message that such a practice would not be tolerated.
"If the traffickers can find the people to sell the drugs to, why the police can't find them (the traffickers/sellers)?", he asked.
"I am totally against jailing a person just for a joint", he stressed while contending that it is untrue that marijuana use causes a person to engage in criminal activities.
In fact Carrington was adamant that marijuana does more good than harm to a person, pointing to growing medical uses.
The National Institute of Drug Abuse stated that because the marijuana plant contains chemicals that may help treat a range of illnesses and symptoms, "many people argue that it should be legal for medical purposes". It was pointed out too that a growing number of US states have legalized marijuana for medical use.
"A person has to be basically criminal minded to want to commit a crime. You don't have to smoke to commit a crime", he said while adding that marijuana use must not be used to justify criminal activity.
Carrington expressed the view that those found in possession are sent to jail to make them an example "so other people would not want to follow and I don't think that should  be the case". He said that there should be more systems in place for rehabilitation in terms of helping a person who may have become addicted to the drug while in other cases community service would suffice.
"You just can't jail them to stop them", he said adding that even though people are being convicted of marijuana offenses are being sent to jail, the drug continued to make its way into the jail undetected and this in itself is a cause of concern.
APNU on board
Despite efforts, Sunday Stabroek was unable to ascertain where APNU stands on the matter. However Carrington stated that they are now fully on board and that the issue had been discussed at several cabinet meetings.
Carrington informed that the AFC agreed that it will deal with the matter with party executive and Minister of Public Security Khemraj Ramjattan undertaking the task of speaking with the APNU.
"As you know we are a coalition and at the time of my tabling there was a little resentment over it because I did not communicate too much with the other side before I actually tabled the bill", he said adding that this is what caused the hold up.
Carrington was adamant that when the parliamentary recess is over that the bill will be dealt with in the National Assembly.
"It's my bill …We should have settled it a long time ago. I think it is too long and we need to have it settled as early as possible", he stressed.
Asked whether all of the AFC members are in support of his move, he said that the entire Executive committee had voted a few weeks ago to go ahead with the bill.
Following the conclusion of the National Executive Committee (NEC) meeting two Saturdays ago, the party said in a press release that its youth arm made robust and vigorous representations to the committee and the party's leadership for review of the laws relating to marijuana possession.
It was stated that a case was presented by Youth for Change (YFC) President Cynthia Rutherford who pressed the party's leadership to lobby for reform of the laws on this matter. "During extensive discussions, it was noted that the current laws result in many young people, particularly young men and numerous mothers of young children being imprisoned for possession of small quantities of marijuana, at maximum detention facilities alongside hardened criminals", the party said in release which added that it was agreed by the NEC that modification of the existing laws, will, among other benefits, lend to reduction of the overcrowded prison population.
Specifically, YFC urged that changes be made to the law as it relates to mandatory imprisonment for possession of small quantities of marijuana, an overhaul of existing guidelines for sentencing and the granting of bail for narcotics offenses.
Carrington told the Sunday Stabroek that "the bill has to come up and we will have to go through with it". He explained that his bill seeks to remove the jail sentence that is attached to small quantities of marijuana. He stressed that all he wants is for these persons to either pay a fine or do community work as punishment.
According to Carrington incarceration particularly for first young first offenders can destroy that person's life as well as that of their close relatives. "It's a whole family that breaks down when a person like this is sentenced", he stressed.
"You should not be sending a first offender to jail. Even if a person is an addict. You can't send an addict to jail because you don't have no rehab system in the jail" he said, while adding that monies from fines and the forfeitures of assets belonging to drug lords can be used to create and  sustain a rehabilitation programme.
Carrington tabled the bill after public outcry over the sentencing in November of 2014 of football coach Vibert Butts to three years imprisonment for possession of 46 grammes of cannabis, which he had said was for his private use. Butts' sentence was appealed and he was subsequently granted bail.
Members of the Rastafarian community had staged a demonstration outside the Attorney General's office to protest against the "unjust laws" regarding the possession of marijuana, which they want decriminalised. They were subsequently invited to and held a meeting with AG Basil Williams, who had told them that the issue would be raised at Cabinet.
Around the Web