Attorney Christopher Ram, during his closing submissions before the Commission of Inquiry (CoI) established to investigate the alleged plot to assassinate the president, contended that it is clear that the accuser Andriff Gillard had been completely dishonest and he expressed concern for the man's mental state.
Ram, the attorney for Imran Khan, the brother of Nizam Khan, the man alleged to have offered Gillard $7 million to kill President David Granger, made his submission on Friday, the final day of the CoI's public hearings. A report is expected to be submitted by the end of the month.
Offering that Gillard may need psychological help, Ram pointed out that man appears to have "serious problems" that include not only personal issues, but financial, marital and judicial as well. He noted that Gillard could not even recall how many brushes he has had with law enforcement.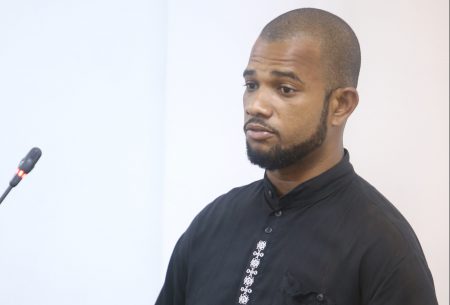 Ram stated that aside from news reporter Travis Chase, no one else has corroborated Gillard's story, neither could Gillard provide a precise date as to when the incident would have occurred. "It makes good folklore, it doesn't make for good facts. In fact, it's as far from facts as you are likely to get from even the most creative and fertile mind," Ram said of Gillard's allegation.
Ram also said that the question of the value of Gillard's evidence, with the knowledge that he falsely swore at the CoI, is of significance.
Attorney Ian Chang, who appeared for the police force, pointed out on Friday during his oral submissions before the commission that although Gillard identifies as Muslim, on both occasions that he appeared before the CoI, he swore by the Bible, a book that was not "binding on his conscience."
As it relates to Chase, who has been the only witness to provide any sort of support to Gillard's story, Ram, like Chang, expressed the belief that Chase was merely a pawn in Gillard's scheme. He noted that Gillard did not go to the state media although he had a complaint against a government agency.
Ram referred to the news anchor as a "victim of Gillard's mischievous imagination" and stated that Chase's testimony was not credible.
"It must make one at least wonder why it is, here it is you have an issue—forget the 21 months. Even if you're gonna imagine something—which is obviously what happened in this case—you have a story against the government, you're gonna go to the private media? And which one? One that is not prepared to test the truth and the veracity of the information it is fed?" Ram questioned.
"A person, and forget his criminal conviction, he says BBC trained reporter. He said that. And guess what he says about how he tests a story? He says, he did not question the veracity of Mr Gillard's story because if you speak the truth all the time you will have one story to tell and he was telling one story. Which kind of serious training would lead to this kind of trash? That because somebody is consistent in a story, lie or truth, you don't need to test it?" Ram went on.
The attorney also advised that the role that the media can play in building and breaking a society should be remembered.
Nothing sinister
Addressing the issue of bail, Ram stressed that his client, Imran Khan, has at no time been named as an accomplice in what he referred to as the "fictitious alleged plot," as he noted that there seemed to be confusion when relating to the two brothers.
Attorney for Chase, Selwyn Pieters, during his submissions, had several times made reference to Commissioner of Police Seelall Persaud calling an officer at the CID in relation to the release of the Khan brothers and Gillard, and had at one point referred to Imran Khan as a suspect in the matter.
"Another question concerning my client was whether my client was the recipient of any special treatment or consideration as a friend of the Commissioner of Police. And let's make it clear….persons are trying to conflate two issues; two persons, two sets of bails, two stories. Your task is going to have to be to separate these," Ram told the CoI Chairman Paul Slowe, while adding that the issues need to be viewed in isolation.
"…Mr Travis Chase boasted how he's a friend of the police…What distinguishes a good friend of the police from a bad friend of the police? So you call someone—is that such a criminal offence? Is that something, a grounds for which you would try to smash not only the reputation of an individual, but the reputation of your chief law enforcement agency? I submit that that's a most irresponsible approach for anyone to advocate, let alone someone of my fellow profession," Ram opined.
He stated that there is nothing sinister about the question of bail and added that one cannot be deprived of one's rights on such "spurious" grounds.
'Intentionally inconsistent'
Meanwhile, Pieters had stated during his closing submissions that he is prepared to place the credibility of Chase's testimony up against Commissioner of Police Persaud's, calling the top cop's evidence "intentionally inconsistent."
He noted that Persaud, according to his testimony, had not reviewed the case file before sending it off, nor did he view the video interview recorded by Chase with Gillard.
Pieters emphasised that throughout the investigation, Persaud had failed to take any notes, which resulted in gaps in his memory, therefore making the evidence unreliable. He opined that Persaud's failure to do so was "calculated and deliberate."
Pieters further stated that the fact that the commissioner of police failed to make notes was a neglect of duty and said his example permeated through the ranks, as only a few of them took to the witness stand equipped with records.
In regards to Chang's argument that Persaud had the administrative authority to pass orders even while on leave as he still legally held the post of commissioner of police, Pieters stated that regardless of that fact, Assistant Commissioner David Ramnarine was and still is an agent of the force and it is he who assumes superintendence of the force while Persaud is away.
Pieters had also submitted that the investigation of the allegation was not thoroughly conducted and urged that the commission not attach any weight to Chang's statement that Chase could not be trusted because of alleged personal grievances with the police, noting that to do so could lead to the perception that because someone pleaded guilty to an offence, their testimony cannot be trusted.
Around the Web