Following the breakout of eleven residents from the juvenile correctional centre at Onderneeming on the Essequibo Coast on Sunday last,  Police Commander, G Division, Stephen Mansell yesterday visited the New Opportunity Corps where he spent some time interacting and addressing the students.
The commander told the students that they were at the institution to learn a skill and should make use of the opportunity while at the facility.
"We do not want you to be engaged in doing wrong things and so when your time is up you would have graduated with a skill that will assist in your personal development. Guyana needs you. You are the future so make hay while the sun shines."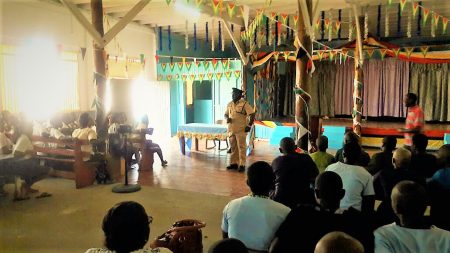 Mansell told the students that the Guyana Police Force will be working along with the  Administration of the NOC to help students to become better developed.
"Every week a subordinate officer will be here to deliver lectures to you. I am extending an invitation to you to participate. The objective is to showcase youth entrepreneurship, job creation, craft, poetry and pageantry whereby you will be given an opportunity to showcase what you have learnt to the public thus making yourselves marketable for employment.  This will be held on September 30th at Damon Square, Anna Regina. This is an event we are looking forward to", he said.
The commander told the students that free music classes will be conducted every Saturday at the Anna Regina Police Station and invited those interested in participating to attend.
The students who were listening quite attentively thanked the Commander for his motivational talk and promised to heed his advice.
On Sunday last, the police said that at about 5.15 pm, eleven residents (six females and five males) escaped from the NOC. Two females were held shortly after and the others were apprehended at about 6 am today not far from the Facility.
Around the Web