Local craft producer Petal Frank died yesterday in Barbados, where she had travelled to participate in Carifesta XIII as an independent member of the Guyana Arts and Craft Producers Association (GACPA).
The Ministry of Education yesterday announced the passing of Frank, who fell ill and was admitted to Queen Elizabeth Hospital on Wednesday. A ministry statement said that despite the best efforts of the staff, Frank's condition worsened and she succumbed during the early morning hours  yesterday.  With her at the time of her passing was GACPA President Patricia Helwig.
While Frank was not a member of Guyana's official contingent, the ministry said it considered her participation integral to the "overall exemplary showing" at this year's event.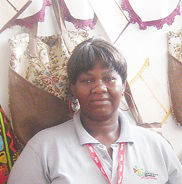 The statement said that the Government of Guyana through the Ministry of Education, Department of Culture, Youth and Sport has reached out to the relatives of Frank and committed assistance in her repatriation to Guyana along with funeral expenses.
Minister of Education Nicolette Henry was also reported as communicating her condolences to the family of Frank. Meanwhile, President David Granger has also offered condolences to the family and friends of Frank. A statement from the Ministry of the Presidency said Frank and her sister, Doreen Morrison, have been making hats, handbags, designer curtains and other novelty items from natural and local materials for over 20 years. The sisters often marketed their goods at the Guyana Exposition and Trade Fair, it noted.
Around the Web