David and Queen streets, in Kitty, Georgetown, will both be restricted to one-way traffic during peak hours on weekdays, the Ministry of Public Infrastructure announced yesterday.
In a brief statement issued yesterday, the Ministry of Public Infrastructure said the decision has been taken in order to manage traffic in light of the closure of a section of the Kitty Public Road to facilitate works on culverts.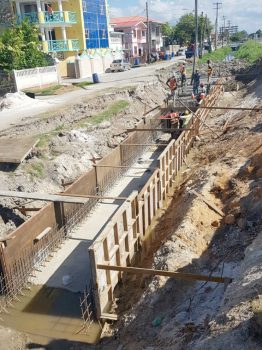 The ministry informed that from Monday to Friday, from 6.30 am to 9.30 am, Queen Street (from Kitty Public Road to David Street) and David Street (from Alexander Street to Vlissengen Road) will become one-way for traffic heading south and west, respectively.
During this period, it added, traffic heading north along Queen Street from David Street will be prohibited.
Additionally, traffic heading east along David Street from Vlissengen Road will also be prohibited.
The ministry said this new traffic management plan is to facilitate the repairs to culverts at Vlissengen Road and Carifesta Avenue and to allow a better flow of traffic during peak hours.
It noted that while the works had been slated to commence on Wednesday, they were delayed in order to allow the contractor to better mobilise and to also erect detour signs at the identified alternative routes of Sheriff Street; Church Road; Earl's Avenue; Pere Street; and Queen Street.
The works are instead scheduled to commence from today.
Around the Web