British High Commission-er Greg Quinn on Thursday hosted a farewell reception for the latest batch of Chevening scholars and he was confident that their experiences would enable them to become advocates for Guyana's development.
The reception was hosted at Quinn's official residence for the 14 Guyanese scholarship recipients ahead of their departure for the United Kingdom.
In his speech at the function, released yesterday by the British High Commission, Quinn said everyone must have the courage to learn from others and accept that none of us know everything. "If we get an opportunity to learn then we should grab it with both hands.
And that is what Chevening is all about – having the opportunity to learn," he noted.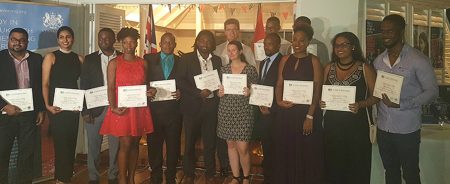 Quinn pointed out that the number of scholarships awarded this year, which represents an investment of some $102 million, is a significant improvement from when he arrived in 2015, when only two were awarded.
He called the increase a demonstration of the British government's commitment to education in general and its continuing commitment to Guyana, in particular.
He noted that the scholarship recipients would be studying for postgraduate qualifications in a variety of areas, including public policy; renewable energy; energy studies; global health; petroleum and energy economics; anthropology and environment; transport planning; innovation management; environmental engineering; development finance; and agriculture.
Quinn said they are all areas that are key to Guyana's future and ongoing development and also highlighted the expectation that the scholars would return and work for the benefit of the country upon the completion of their studies. "That is the purpose of Chevening – to give people the skills and knowledge needed to help develop their own country.  Not to go and work elsewhere – but to return and work here.  It is the least that we can expect," he said.
He was hopeful that once they return, they would also network with other scholars, old and new, given that building and enhancing the scholars' alumni group is fundamental.
"We want all scholars to exchange ideas and encourage discussion around key issues. By doing so they will be part of a group which have shared experiences. These experiences will allow them to become effective advocates for the development of Guyana," he added.
The 2017 Guyana Chevening Scholars are: Kayla DeFreitas, who will be pursuing an MSc in Anthropology, Environ-ment and Development; Sanasha Perreira, who will be pursuing an MSc in Renewable Energy Development; Jason Fraser, who will be pursuing an MSc in Innovation Management and Entrepreneurship; Rovin Sukhraj, who will be pursuing an MSc in Global Health, Law and Governance; Tiffany Daniels, who will be pursuing an MSc in Systematic Reviews for Public Policy and Practice; Darcy Waldron who will be pursuing an MSc in Environmental Engineer-ing and Project Manage-ment; Michael Fraser, who will be pursuing an MSc in Communi-cations and Signal Processing; Lidon Charles, who will be pursuing an LLM in International Law; Gopnauth Gossai, who will be pursuing an MSc in Petroleum, Energy Econo-mics and Finance; Tricia Teekah, who will be pursuing an MA in Public Policy; Joel Joseph, who will be pursuing an MSc in Development  Finance; Jacqueline Major, who will be pursuing an MSc in Transport Planning and Engineer-ing; Dillon Clarke, who will be pursuing an MSc in Energy Studies with specialisation in Energy Economics; and Jonathan Melville, who will be pursuing an MSc in Agriculture and Environmental Science.
Meanwhile, applications are being accepted for next year's Chevening scholarship scheme until November 7. Quinn said details are already available on the Chevening website (www.chevening. org.uk) and would be appearing in the local newspapers.
Around the Web