The 13th Berbice Exposition and Trade Fair was launched on Wednesday and Minister of Business Dominic Gaskin told residents of the county to look beyond the sugar industry for economic advancement.
The simple launch was held at the Central Corentyne Chamber of Commerce (CCCC) office at Williamsburg, Corentyne. The expo, which will officially commence on October 6, would be held under the theme 'Ensuring Food Security and Economic Growth through Agricultural Development.'
During Gaskin's delivery of the feature address, he used the case of the Guyana Sugar Corporation (GuySuCo) to warn against the possible dependence on oil, while stating that although oil will be beneficial to Guyana's economy, it is also important and necessary that the country does not only rely on one economic sector to survive.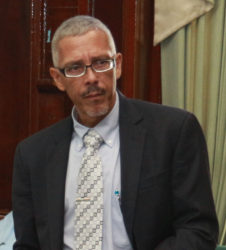 "We want to survive as an economy and become a competitive local economy, which I think we have the potential to become. We must be able to have a diverse portfolio of export industries," the minister said. He then added that agriculture is an area where Guyana has the experience, land and market, while noting that Region Six is an agricultural region.
Acknowledging that there are concerns about GuySuCo's future, Gaskin insisted that the government will work with the private enterprise to ensure that there are other options and opportunities for economic advancement besides sugar.
Gaskin related that in October, the Guyana Manufacturing and Services Association, in collaboration with the Ministry of Business, will be hosting an agro-processioning and food festival exposition called "Uncapped," which promises to bring together "producers and processors, products and buyers in order to boost awareness and consumption of what we produce locally."
Gaskin further said that next April, the Ministry of Business will be hosting another event called the 'Guyana Trade and Investment Exhibition,' which is a "business to business event" that is "designed to bring together local producers and foreign buyers."
"This is the kind of event we want to be holding and this is one of the reasons why we have no GuyExpo this year," Gaskin stated, while relating that the ministry will have to identify "expo ready" local businesses and work with them to prepare them to network with overseas buyers.
Gaskin noted, too, that while it is a challenging task, the government does feel that the exhibition would be useful in the "pursuit" of its "economic development pathway" and useful for strengthening its industries. He related that the government is focused on value-added production and added that the exhibition will create employment as well as generate foreign earnings.
Investments  needed
Meanwhile, Regional Chairman of Region Six David Armogan reiterated that this year the expo is being held at a difficult time as businesses in the region have experienced more than a 25% decline in sales and have been forced to lay off workers as a result.
Armogan also spoke of the situation the rice and sugar industry are presently in, while stressing that once the Rose Hall Estate is officially closed, the region will have less income. He called on government to use better judgement and delay the impending closure of the estate. "As much as we are going into an exposition and trade fair, there is need for expansion in the business sector, there is need for more employment and this can only come when our confidence begins to grow and businesses should begin to gain to have a profitable 'turn over,'" he stated.
He called on the government to pay heed to the region's situation and work on providing employment opportunities through "manufacturing and other trade possibilities."
The CCCC President, Mohamed Raffik, during his speech, explained that the chamber is looking at placing much emphasis on the region's vast agricultural potential. Like Gaskin, Raffik stated that while the country is likely to have oil in the year 2020, the nation must not only depend solely on the discovery of oil, but must also continue to place emphasis on continuously developing the agricultural sector in the country.
He then noted that the main crops, such as rice and sugar, have "been taking some hits," and as a result, he said it is necessary to look at other ways to ensure that the region's agricultural abilities are taken advantage of. He said that with the exception of Black Bush Polder, there has been no other new major agricultural schemes in Berbice.
Raffik then disclosed that the chamber is disappointed due to the fact that they have written to the Ministry of Agriculture twice in the past asking for a meeting to share ideas, but is yet to receive a response from the minister. He said that while the chamber is willing to offer support, they cannot do it by themselves and government's assistance is important and necessary. "…We got to remind the government that we need to make investments in infrastructure in agriculture in Berbice and ensure that we maintain the presence of agriculture in Berbice," he further stressed.
Noting that an average of 20,000 persons attended the expo last year, Raffik stated that business owners should realise how beneficial a trade fair of such a magnitude can be to them and come up with innovative ways to market their products. He then made a call for business owners in the region to take advantage of the expo to market themselves more "aggressively."
Raffik then related that close to $12 million is needed to host a successful exposition and trade fair, while noting that the profits from the chamber's expo is always used in ways that can benefit citizens of the county and, by extension, the entire country. "I would like this expo to be a bit different, we will put a lot of effort into it," he divulged.
Indranauth Haralsingh, Director of the Guyana Tourism Authority, during his address to the gathering, called for a specific location to be provided to the CCCC to host its annual exposition and trade fair. He noted that the chamber has been hosting the expo successfully for several years now and it is only fair that they be given a location to use.
The Berbice Expo and Trade Fair 2017 will be held at the Albion Sports Complex. It will commence on Friday October, 6 and conclude on Monday October, 9.
Around the Web