Police in 'F' Division last week concluded a two-week back to school project which saw several students receiving school uniforms and other school items for the new school year, which begins next week.
The handing over was done on Wednesday at the Byderabo Multi-Purpose Complex with approximately 50 children and parents in attendance.
The project was spearheaded by Divisional Commander Ravindradat Budhram and other ranks from the Division, and included the participation of parents and teachers from the community.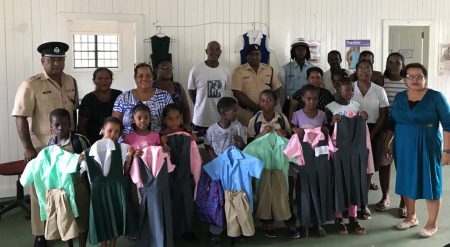 The initiative was aimed at assisting children in need of school supplies who had been identified from various schools in and around Byderabo. The project also sought to keep students on the right path and away from substance abuse and illegal activities during the school holidays.
A sewing machine and materials were also provided by the police and the business community, and parents and teachers assisted with the sewing of the school uniforms for the new school term.
Thirty students who benefited from the project, are also members of the Byderabo Youth Group and are between the ages of 8 and 13.
Around the Web