Many owners of property in villages established by freed Africans have lost titles to their land unsuspectingly, according to remigrant Weusi Tafawa.
Tafawa appeared before the Commission of Inquiry (CoI) on ancestral land matters last Thursday, when he claimed that he was a victim of land theft, and suggested that there are many other people like him who have been victims of crimes of a similar nature.
He cited his case as an example when he appeared before the tribunal.
Tafawa said that his mother had been in possession of land in Buxton for 30 years and related that his sister had occupied the house on the property for the past 12. He said that based on records he retrieved, his mother had been the only one documented as having paid rates and taxes for the property but added that the taxes have since been paid up to date.
Still, it was only during a visit to the Lands Registry that Tafawa found out that someone else held title to the land.  He had gone there after the building plan he presented to the Buxton Village Council for his mother's property was rejected because of discrepancies in the title.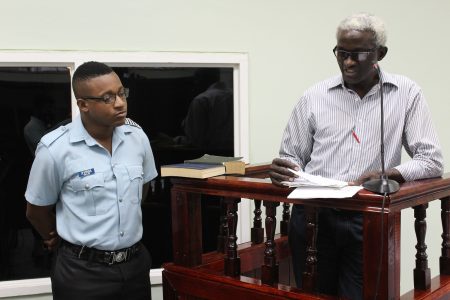 Tafawa said that when he had tried to uplift the land title, he was informed that his mother had never registered her interests in the property, and neither had the person who had sold it to her.
Tafawa said he employed the assistance of a surveyor, who, being able to access the records, later told him that the land is registered in the name of a Parbattie Singh and an Asif Mustafa.
He said when he tried to find out from staff at the registry how they had acquired the lands, the employees were uncooperative. He suggested that they were either incompetent or lacked awareness of the importance of the job they were assigned to do.
He later engaged an attorney, however, who informed him that the land may have been sold to Singh in 2010 by an Arun Haniff.
"Before coming here this morning I stopped to see Mr Griffith, the lawyer who I had engaged. And he's suggesting to me that there is another gentleman involved based on his information called Arun Haniff, who may have been the person who sold the land in October 24, 2010 to Parbattie Singh. And he's saying that if that is the case, then my legal case becomes more difficult for me to recover that land, because it has changed hands from one thief to perhaps an innocent buyer," Tafawa stated.
"…There are a number of people, perhaps the generation before mine, who out of ignorance or lack of information did not register their interests on their property. All they did was just pass it on. But now what is happening is that a group of wiser people are going to the land registry—and I don't know what's the legal term whether it's through prescription or adverse possession—I don't know how, I don't know what's the methodology that's being used. But somehow because they are the first registered owners of the land, they are able to register title to other people's property," the witness noted.
Speaking to the state of the registry's records, Tafawa suggested that the records be computerised and made easily accessible as he stated that information is not available. He also recommended that there be stiff penalties for anyone claiming title to another person's land.
The CoI's mandate is to examine and make recommendations to resolve all the issues and uncertainties surrounding the individual joint or communal ownership of land acquired by freed Africans; claims of Amerindian land titling and other matters relative to land titling.
It is being chaired by Reverend George Chuck-a-Sang, with David James, Professor Rudolph James, Lennox Caleb, Berlinda Persaud, Carol Khan-James and Paulette Henry serving as commissioners.
Around the Web